Virtual and in-person art exhibitions not to be missed this month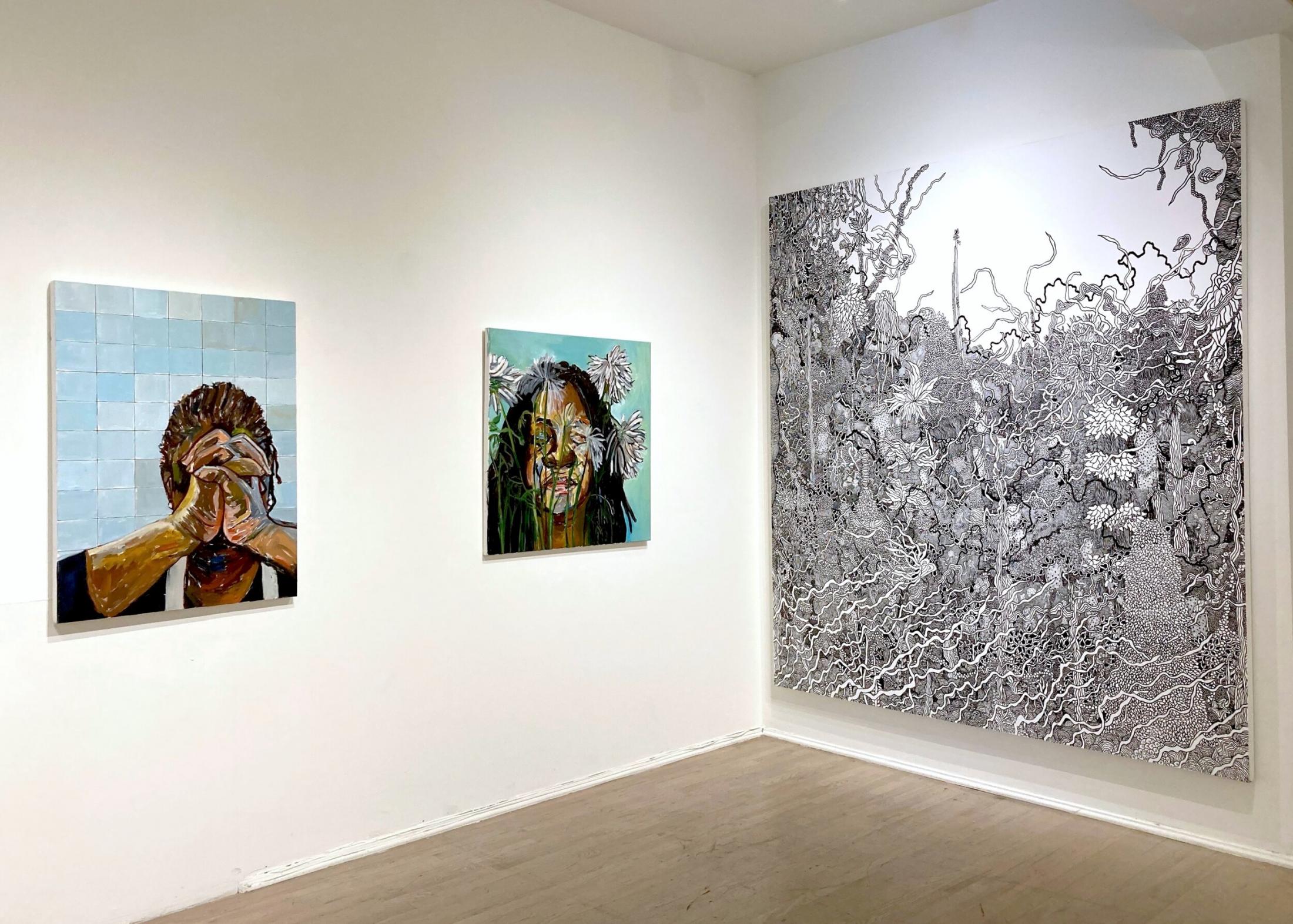 From limited in-person exhibitions to virtual collections, the art world continues to create and evolve in the wake of the coronavirus. In September, support local galleries and artists with these local events.
Contemporary
SUMMER '20
Until the end of the month, the prestigious C. Grimaldis Gallery in Mount Vernon hosts its unmissable annual summer exhibition showcasing a variety of works across all genres, including those by collage artist Zoë Charlton, installation of light Chul-Hyun Ahn, photographer Ben Marcin, filmmaker John Waters and painter Beverly McIver. As of 09/26. C. Grimadlis Gallery. Online or in person by appointment only. Tue-Sat 11am-5pm Free.
JO SMAIL: BEES WITH STICKY FEET
Due to popular demand, the Goya Contemporary Gallery in Hampden has extended this summer exhibition with over 30 works by prolific South African-born, Baltimore-based artist Jo Smail. Through pigment prints and fabrics on wood, each collage is an exploration of past and present through form, pattern and texture. The gallery will also be showcasing Smail's work through the BMA Virtual Fair through January 2021. As of 09/30. Goya Contemporary Gallery. Online or in person by appointment only. Tue-Sat 10 a.m.-6 p.m., Sun. 12 p.m.-5 p.m. Free.
MONO PLATFORM
With its exhibition space closed to the public, the Gare Nord gallery continuesues its goal to showcase the abstract and reductive art of emerging and mid-career artists through this online collection, including colorful and compelling works on paper, paintings, sculptures, and photographs. We personally love the brightly painted panels by Tim Doud, co-founder of the local collaborative art project, 'sindkit. As of 12/31. Mono-practice. On line. Free.
living history
FREEDOM BOUND: CHESAPEAKE LEAKS
This new exhibit at the Reginald F. Lewis Museum features nine vignettes of people—slaves, indentured servants, and convict servants—from the Chesapeake region who sought freedom from bondage between the colonial period and the American Civil War. Tales of resistance and resilience, each tells a larger story about an experience shared by thousands of enslaved people who lived and worked in Maryland. 9/1-30. Reginald F. Lewis Museum. On line. Free.
FORGOTTEN BATTLE: THE STRUGGLE FOR VOTING RIGHTS IN MARYLAND
The year 2020 marks the 100th and 150th anniversary of the ratification of the 19th and 15th Amendments, respectively. This new virtual and interactive exhibit from the Maryland Historical Society pays tribute to the women who have dedicated their lives by women's suffrage and fought an uphill battle for statewide suffrage. 9/9-3/31/21. Maryland Historical Society. On line. Free.

The art of time
THE FREQUENCY OF US
Co-curated by multidisciplinary artists Abdu Ali and Karryl Eugene, nomadic arts platform As They Lay returns with its second virtual exhibition, an all-new series featuring curated video works by emerging artists who amplify the importance of curating black archives and his ability to reshape aspects of culture for the growth of black gaze. The exhibition aims to empower viewers to question the monolithic ideologies that center a white patriarchal gaze. 9/17-19. As they lay. Online through Zoom. Free.
KOTA EZAWA NATIONAL ANTHEM
Although the BMA is still officially closed at press time, its outdoor spring house is now open to the public and features National anthem, an animated short film and a powerful meditation on protest and patriotism by Californian artist Kota Ezawa. The museum's Go Mobile app provided additional commentary from museum curators on the artwork and the space, which was a former slave workspace in Baltimore. The Baltimore Museum of Art, Latrobe Spring House. In person. Tue-Sun 10am-8pm Free.
REMOTE
Although their spring semester was cut short, MICA Forum Class students still created art, with works by 15 artists now on view in this virtual 3D gallery in partnership with Pigment Sauvage, a gallery run by artists in Bolton Hill. Browse powerful political installation art photographs by Yuhan Shen, digital drawings turned into puzzles by Stefanie Zins, colorful isolation-inspired paintings by Gloria Logan, autobiographical drawings transferred by Gaeun Chloe Kim, and more. As of 9/10. Maryland Institute College of Art. On line. Free.