University of Guelph to renovate and expand performing arts facilities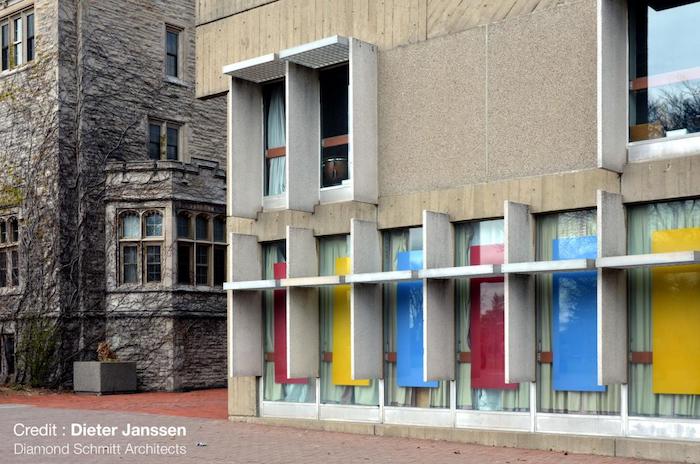 The University of Guelph in Ontario yesterday inaugurated the renewal and expansion of its Performing Arts program facilities.
Diamond Schmitt Architects designed the 45,000 square foot project to reinvent the north wing of the MacKinnon Building, which was built in 1967 and is home to the university's College of the Arts and the International Institute for Critical Studies in Improvisation ( IICSI).
The project will add a highly anticipated 160-seat black box theater in the courtyard, dubbed ImprovLab, a publicly accessible research center where improvised performances will be presented, recorded and analyzed. The renovations will also include the construction of a new main entrance and student spaces, the reconfiguration of the Luscombe Theater, the addition of new rehearsal rooms for music, and improvements to address accessibility and accessibility issues. acoustic.
"The acoustically attenuated rooms will be complemented by an abundance of light spaces that open up and connect the building to the campus," explains Michael Treacy, director of the architectural firm.
Consultants for the project include:
Structural: Taras Gamaniouk, ing., Thornton Tomasetti.
Mechanics: Richard Jong and Andrew Pratt, Crossey Engineering.
Electricity: Paul Siery, Crossey Engineering.
Lighting: Ion Luh, Consullux Lighting Consultants / Crossey Engineering.
AV: Dave Clark and Kevin Paquette, Dave Clark Consulting.
Theater: Robert Campbell, Fiscer Dachs Associates (FDA).
Acoustics: Stephen McCann, P.Eng., And Allan Raun, B.Eng. and Mgt., P.Eng., Swallow Acoustic Consultants / Thornton Tomasetti.
Radon Mitigation / Reduction: Eric Hoffbauer, Eng., Lex Scientific.
Specifications: Colin McIntosh, Brian Ballantyne Specifications (BBS).
Code: James Ware, FPET, LMDG.
Construction begins this fall with the foundations and enclosure of the new building. The project is expected to be completed in spring 2021.