Spring Brings New Art Exhibits – Chadds Ford Live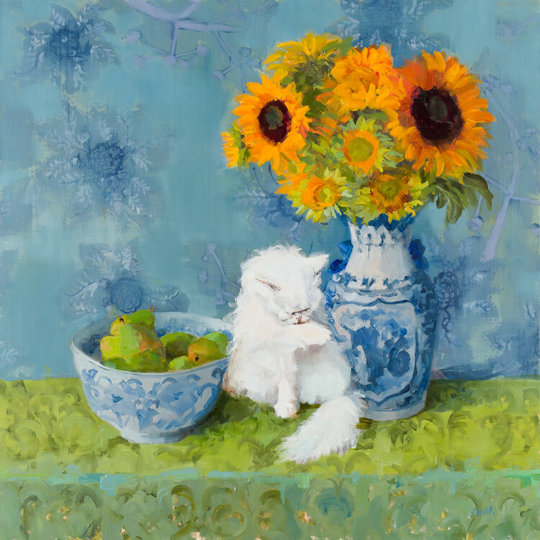 As the dull days of winter finally begin to fade, bright art exhibits and fun events are ready to roll! Brandywine Valley Galleries are showing new exhibits over the coming weeks. Take advantage of the last cold days to discover them. Be sure to check the gallery's website or call ahead for up-to-date security measures.
The Art Trust goes to the birds with three popular local artists. "Put A Bird On It" celebrates feathered friends in all their detailed, delightful, and curious glory. Annie Partizi incorporates found materials and vintage objects into beautiful works of art. The multi-dimensional aspect brings his striking subjects to life. Rinal Parikh's exquisitely detailed pieces show birds surrounded by colorful nature scenes. And Jeremy McGirl's multimedia collages incorporate detailed engravings and graphic designs to great effect. Art and nature lovers will be able to gather at an exhibition cocktail on Friday, March 4and from 5 p.m. to 9 p.m., or listen directly from the artist's mouthpiece during an Artist's Talk on April 21st from 7 p.m. to 8 p.m. The exhibition is presented from March 2n/a to April 22n/a. The Art Trust is located at 16 West Market Street, West Chester, PA. More information can be found at TheArtTrust.org.
The Chester County Arts Association is bringing back its popular Open Call shows, featuring over sixty artists from the local area and beyond. Both wrapped exhibits are on display from March 10and March 30and. In the Allinson Gallery, the Open Call Juried Photography Show will showcase a wide variety of photography types, from candid shots to landscapes, still lifes to portraits, sports to fashion to architectural pieces. In the Huston Gallery, the Open Call Juried Print Show showcases new artists and techniques. An opening reception will be held on Thursday, March 10and from 5 p.m. to 7 p.m. The ACSC is located at 100 North Bradford Avenue, West Chester, PA. More information can be found at ChesterCountyArts.org.
Gallery 222 brings back popular artist Rhoda Kahler along with landscape artist Bill Sweeney in a duo exhibition. A public Artists' Reception opens the show on Thursday, March 10and from 5:30 p.m. to 8 p.m., and the show continues until April 2n/a. Kahler is exhibiting for the third time with an all-new series of works including sculptural-inspired pieces, cityscapes, and more. Sweeney is new to the gallery, and their pastel landscapes will be appreciated by local art lovers, who may recall famous local artist Andrew Wyeth. Gallery 222 is located at 222 East King Street, Malvern, PA. More information can be found at Gallery222Malvern.com.
Breathe and find your inner peace at Darlington Arts Center with 'Meditative Mandalas', a new exhibition featuring the art of Erika Matyok. A free reception in the gallery on Saturday March 12and 6:30-7:30 p.m. is open by RSVP, call 610-358-3632 to reserve your spot. The exhibition is open now and will run until April 4and. The Darlington Arts Center is located at 977 Shavertown Road, Garnet Valley, PA. More information can be found at DarlingtonArts.org.
The Station Gallery features a complete refresh with all new paintings by gallery artists. A Spring Opening Reception will be held on Friday, April 1st. The art will be displayed throughout the month leading up to this one and will be available for viewing Monday through Friday. The Station Gallery is located at 3922 Kennett Pike, Greenville, DE. More information can be found at StationGallery.net.
The Main Line Art Center will host its annual exhibition of member and teacher artists from March 28and to April 30and. A range of works by local artists will be on display, including photography, sculpture, mixed media, ceramics, and more. The Main Line Art Center is located at 746 Panmure Road, Haverford, PA. More information can be found at MainLineArt.org.
The Square Pear Gallery brings many local favorites as well as new faces to their new show, "Stories We Tell." Starring Merrill Weber, Donna Porter, Jack Giangiilio and a dozen others, this dynamic show takes place in March and April. The Square Pear Gallery is located at 200 East State Street, Kennett Square, PA. More information can be found at SquarePearGallery.com.

About Victoria Flickinger
Victoria is an editor, writer, avid reader, self-proclaimed geek and fan of all things creative. Her passion for words has led her to her current career as a freelance writer and she owns Flickering Words, a publishing service. When she's not wielding a red pen (or cursor), she loves reading books of all genres, playing video, board and word games, creating silly creations to show off on the internet, or enjoying the beautiful outdoors. She is a board member of the West Chester Film Festival and part of the Thirsty Monsters, a team of streamers from around the world who raise money for various charities supporting LGBTQIA+ rights and accessibility. It can be found online @WordsFlickering.
comments
comments