South Africa's Tarnanthi Art Fair art gallery goes live, featuring works by 1,400 Aboriginal and Torres Strait Islander artists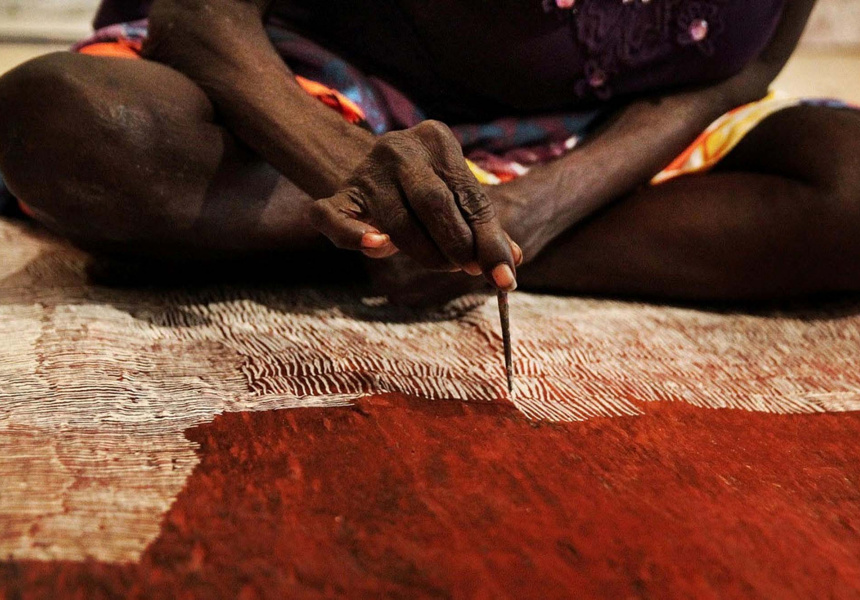 [ad_1]
In the language of the Kaurna people of the Adelaide Plains, tarnanthi (pronounced tar-nan-dee) means "to come out or appear – like the sun and the emergence of the first light".
The Tarnanthi Art Fair, part of the Art Gallery of South Australia's annual celebration of contemporary Aboriginal and Torres Strait Islander art, embodies just that, showcasing the avant-garde of art contemporary with First Nations across the country and providing a dynamic platform for artists to share important stories.
This year, the art fair returns as an online event, for obvious reasons, making browsing and buying art more accessible than ever. Thousands of works by around 1,400 artists and over 50 art centers across the country will be available to a global audience from Friday October 15 through Monday October 18.
"We normally have the art fair as a live event where artists and art center directors travel from their communities to Adelaide to sell and display their works," says Nici Cumpston, Artistic Director of Tarnanthi and Curator of Aboriginal and Island Arts of the Torres Strait. at the Art Gallery of South Australia.
"Due to the pandemic, however, we didn't want to risk that artists couldn't get to Adelaide and sell and exhibit their work, so moving to a digital platform was the best option. [It] allows buyers to spend more time looking at items from anywhere in the world.
The digital platform welcomes cultural stories through works that combine traditional techniques with contemporary practices, including paintings, sculptures, looms, jewelry, textiles and household items. Buyers can travel from the Top End Islands to the expanses of the Central and Western Desert, and rainforests in the far north of Queensland to the southern coast of Australia.
The Tarnanthi Art Fair is governed by the Indigenous Art Code and supports the ethical production and sale of artwork by Aboriginal and Torres Strait Islander artists. With prices ranging from $ 100 to $ 15,000, and with every dollar of each sale going directly to artists and their art centers, buyers can rest assured knowing that their purchase is delivering economic benefits directly to communities.
Cumpston, a Barkandji woman from the Barka (the Darling River) in the far west of New South Wales, says that while art plays a critical role in the economic sustainability of First Nations communities, it is not the only advantage. "Art is not just about sales and exhibitions; it's also having the opportunity to express yourself, "she says. Large format.
"Creativity is such an important part of who we are as humans and as First Nations people. The artistic process is empowering and offers many artists a form of acceptance. Having the opportunity to do work that allows artists to work through ideas strengthens their sanity, enriches their minds, and provides artists with a way to deal with their adversity. "
While the Native Art Code sets the standard for ethically buying Aboriginal and Torres Strait Islander art, Cumpston says sometimes it's important to dig a little deeper. "Ask questions when purchasing Aboriginal and Torres Strait Islander art, and do some research on the art center and gallery you are buying from to make sure they have a relationship with the artist. Each work of art must have a certificate of authenticity that accompanies the purchase of the artwork. These steps help ensure that the art comes from the right place. "
The Tarnanthi Art Fair takes place online from 5:00 p.m. on Friday, October 15 to 9:00 p.m. on Monday, October 18. To access the Tarnanthi Online Art Fair and learn more about this year's art centers, visit agsa.sa.gov.au/tarnanthiartfair.
The wider Tarnanthi Festival opens tomorrow, showcasing the work of more than 1,400 artists in exhibitions at AGSA and in venues across South Australia from October 15 to January 30.
[ad_2]