Renovated Bergen Performing Arts Center fills the calendar and puts students in the spotlight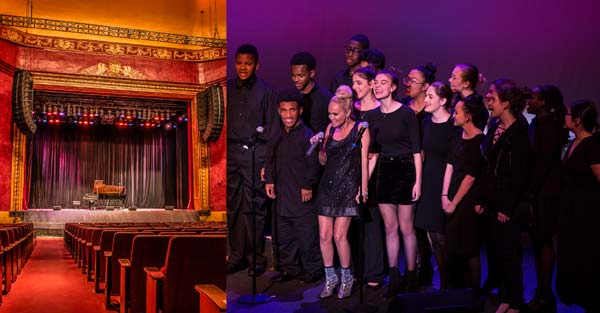 NEW | FEATURES | PREVIEWS | EVENTS
By Stroud Company, JerseyArts.com
originally published: 10/13/2022
Pictured: The renovated auditorium today and the Show Choir with Tony Award winner Kristin Chenoweth, December 2017
The Bergen Performing Arts Center in Englewood reopens this week with something to celebrate. Not only is the venue set to host its first full season of live events in three years, but guests are also noticing that the venue has undergone extensive renovations and its performing arts school students can again perform among professionals on its stage.
Audiences will have many live experiences to savor at Bergen PAC, including comedies such as Tracy Morgan (October 21), Lewis Black (November 19) and Jay Leno (April 8); an appearance by William Shatner for a screening of the 1982 film "Star Trek II: The Wrath of Khan" followed by a conversation with the entertaining celebrity actor (February 11); a focus on children's programming, including "Blue's Clues & You!" (December 10); and bands like Yes (Nov. 17), Art Garfunkel (Dec. 15), Dru Hill (Jan. 28), Patti LuPone (March 23), and salsa stars Victor Manuelle (Nov. 12) and Gilberto Santa Rosa (28 Feb. 24).
Upgrades costing approximately $10 million include a new LED marquee, new seating and carpeting in the 1,367-seat auditorium, additional restrooms and concession locations, an expanded lobby, a new bar, improved lighting and sound systems and a call window accessible from the street, among other improvements.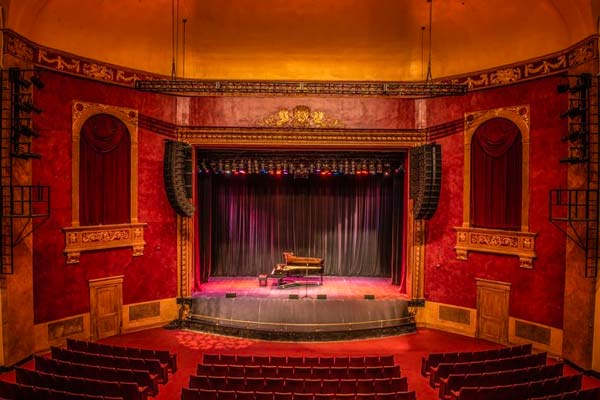 Theater today from the balcony (photo by Jeremy Lebled)
Renovations are expected to be completed by the end of October.
Advertise with New Jersey Stage for $50-$100 per month, click here for more info
---
Providing virtual programming and school instruction for a year and a half, along with socially distanced offerings such as their Sunset Drive-In concert series, was "noble and an opportunity for innovation," says Alexander Diaz, who was appointed executive director of Bergen PAC in August and who has been with the 96-year-old venue in various capacities since 2010, "but people want the live experience".
Among Bergen PAC's other offerings this year is a roster of tributes to legendary music groups, including Pink Floyd, the Rolling Stones, Luther Vandross and, on October 28, Swedish supergroup ABBA.
"MANIA: The ABBA Tribute" will feature approximately 15 members of the Performing Arts School Show Choir of Bergen PAC, an ensemble of singers between the ages of 13 and 18. Kristin Chenoweth and LuPone, as well as Dionne Warwick of Foreigner and Jersey.
The Show Choir is part of the Bergen PAC School of Performing Arts. The school was launched in 2005 as a dance program nestled in a studio on the third floor of the theater on North Van Brunt Street. In 2013 the school moved to its own facilities in nearby Depot Square. Today, according to Performing Arts School director Becky Serico, they train around 1,000 students aged three months to 21 years in all skill levels in dance, theater and music, in person and now also virtually. Serico says their educational initiatives reach approximately 15,000 offsite students in school programs in Bergen and Passaic, Essex, Hudson and Monmouth counties.
And plenty of students seem to be forging lasting bonds with the school: Look out for Performing Arts School alumna — and current faculty member — Gianna Grosso singing alongside Broadway star Linda Eder ("Jekyll & Hyde ") on November 6 at Bergen PAC.
And an event like the ABBA tribute, which puts Performing Arts School students in the spotlight alongside heavy hitters from Broadway and beyond, is precisely the goal, says Diaz, who for several years served as director Education and Outreach from Bergen PAC.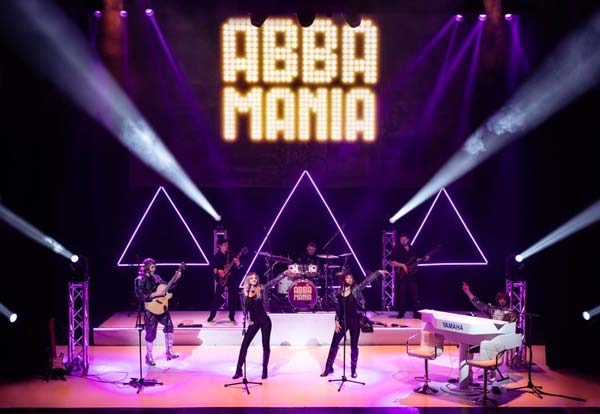 "MANIA: The ABBA Tribute" arrives at Bergen PAC on October 28, 2022 (photo by Mark Senior)
"It's part of the Performing Arts School's mission to provide students with professional, hands-on training and rewarding opportunities to perform in public before large audiences," he says. "It gives these kids an incredible confidence boost and lifelong memories."
Serico agrees.
"For these kids, getting on stage with professionals is a dream come true," says Serico. "It gives them a real taste of what it's like to be a star."
Not only that, says Serico, but she sees how the school instills crucial life lessons that serve young artists long after they step off the stage — lessons about the value of collaboration, tenacity and discipline.
Suzanne Joshi's daughter Maya, 13, has been studying singing since she was 6 and will perform with the choir as part of the ABBA tribute. Joshi says she was grateful to find the Performing Arts School for Maya when the family moved to Cresskill in 2019.
The school "has a wonderful reputation for nurturing young voices," says Joshi. "We were particularly interested in the classical singing program, which is not easy to find…. The teachers at the school helped Maya develop her voice as well as her confidence and exposed her to a whole new world of opportunities.
Advertise with New Jersey Stage for $50-$100 per month, click here for more info
---
Additionally, Maya says, "The scene is so much fun – we do so many different things, and it's just an awesome community."
Additionally, says Joshi, she noticed that singing with the Show Choir pushed Maya to find her voice in more ways than one, as a member of her middle school's debate club, as a goalie in the football team and as an active participant in the classroom. talks.
"I saw her really take control of her own talent and make decisions about her future," says Joshi.
Diaz, too, is looking to the future and eager to get back to business.
"This [season] marks a whole new beginning," he says, "while respecting the traditions that have made us an enduring center for the performing arts."
---
About the Author:
Content provided by
Discover Jersey Arts
a project of the ArtPride New Jersey Foundation and the New Jersey State Council on the Arts.