Remembering Nancy Lukasiewicz, Founding Director of Lyndon House Arts Center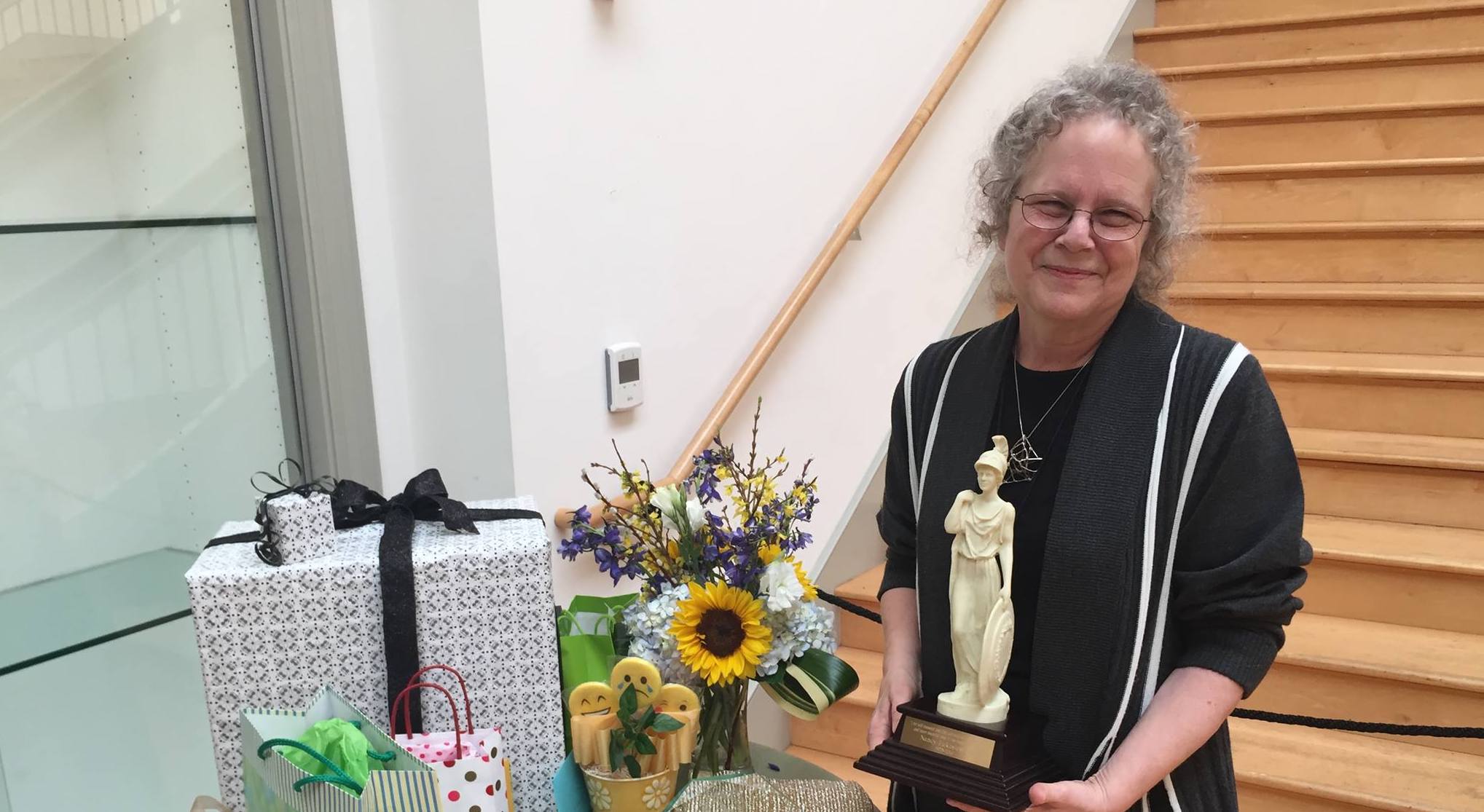 With its various exhibitions, performances, lectures and courses, Lyndon House Arts Center exists as a multi-faceted venue serving all ages, artistic tastes and backgrounds. This cultural institution would not be what it is today without the decades-long vision, leadership and dedication of former director Nancy Lukasiewicz, who died of cancer on February 12 at the age of 71.
Incredibly kind and approachable, Lukasiewicz was a thoughtful and tactful advocate for the arts. With fairy godmother flair, she was also an inspiring mentor and teacher who knew how to meet artists exactly where they were on their journey, help them appreciate the value of their own creative ideas, and ultimately motivate them to pursue their passion. Under his wing, anyone could be an artist in some form or fashion, and art itself existed for all to experience and enjoy. This down-to-earth attitude and emphasis on the importance of accessibility to the arts remains an integral part of the center's current structure and programming.
After earning their BFA degree from Carnegie Mellon University, Nancy and her husband Ronnie moved to Athens in 1973 to pursue their MFA studies at the University of Georgia. The following year, Ronnie was looking for a place to hold a juried art exhibition when he landed an opportunity at the Ware-Lyndon Municipal House, a late 1850s Greek Revival house on Hoyt Street that survives as a relic of the historic Lickskillet. district. The exhibit helped launch the first government-sponsored community arts program, and Nancy took the helm as director soon after. She worked tirelessly to secure grants and develop partnerships with artists' guilds, many of whom continue to use the center as a meeting place today.
"I want to express my deepest gratitude for his hard work and dedication to the arts center over four decades," said Beth Sale, Exhibitions Program Specialist at LHAC. "She created a welcoming and nurturing environment, inclusive of everyone. Everyone who met her wanted to participate and be present in this space. Athens has rallied around Nancy's vision for this magnificent community arts center. The spectacular facility we call the Lyndon House Arts Center would not exist without it.
Together, Nancy and Ronnie were instrumental in championing and leading the SPLOST-funded $6 million renovation and expansion of the Lyndon House Art Center, which added 33,000 square feet of space for galleries, a small gift shop to sell artists' wares and fully-equipped studios for seven different disciplines. Sadly, Ronnie passed away in 1998, a year before the newly expanded facility was officially opened to the public. Nancy then took on her new role as exhibition curator, which she continued until her retirement in 2016 after a 40-year career at the centre.
"In the years leading up to her retirement, Nancy was a watchdog to me, always keeping an eye on the direction in which I was taking Lyndon House into the future," says Didi Dunphy, program supervisor at LHAC. . "The day she told me she was retiring, I asked her why. She said she wanted to be sure I was the right person to leave the Arts Center to. I thanked her very generously.
Lukasiewicz's lasting legacy can be felt through the 47th annual juried exhibition, which opened March 3. Guest juror Miranda Liash, Senior Curator Ellen Bruss at the Museum of Contemporary Art Denver, selected 160 pieces from a total of 656 submissions submitted by 237 artists. Now approaching its golden anniversary as a community tradition, the exhibition reflects the diversity of creations produced by local artists working in a variety of media not limited to painting, printmaking, ceramics, photography, textiles, video, metal work and wood work.
An accomplished artist in her own right, Nancy specialized in weaving, was an early member of the Athens Fibercraft Guild and taught at the center for many years. Among the dozen prizes awarded each year at the juried exhibition, the Nancy Lukasiewicz Prize for Excellence in Fine Crafts often recognizes related textile artists.
The juried exhibition will remain on view until May 21, and artist talks will take place on March 17, April 21 and May 19 at 6 p.m., as well as April 2 and 23 at 2 p.m.
Do you like what you just read? Support Flagpole by donating today. Every dollar you donate helps fund our continued mission to provide Athens with quality, independent journalism.