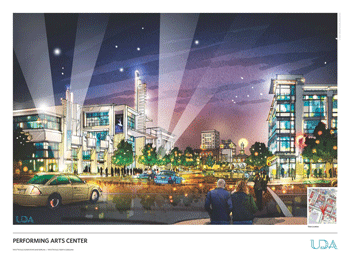 There are 18 performing arts centers in every major city in North Carolina except Fayetteville.
Cumberland County Commissioner Jimmy Keefe told Up & Coming Weekly that is about to change and that may finally be on the horizon after decades of talks.
Discussions about a new performing arts center have been ongoing for at least 20 years, with its first mention in the city's 2002 Renaissance plan. Keefe has been involved in the process for over eight years.
Key takeaways from a survey confirmed the region's desire to have a facility and showed a need for it to appeal to a younger and more diverse market – this is according to the executive director of Conventions, Sports and Leisure, Adam Kerns. Kern's firm conducted the study.
Keefe said the most viable source of funding for the center would be taxes on food and beverages.
"We can do it without any additional taxation. "
Keefe envisions a 90,000 square foot mixed-use center on three to four acres of city or county-owned property in downtown Fayetteville.
"Everything is going in the right direction for a facility to be operational by 2025," Keefe said.