Passaic County Arts Center hosts art exhibits throughout the summer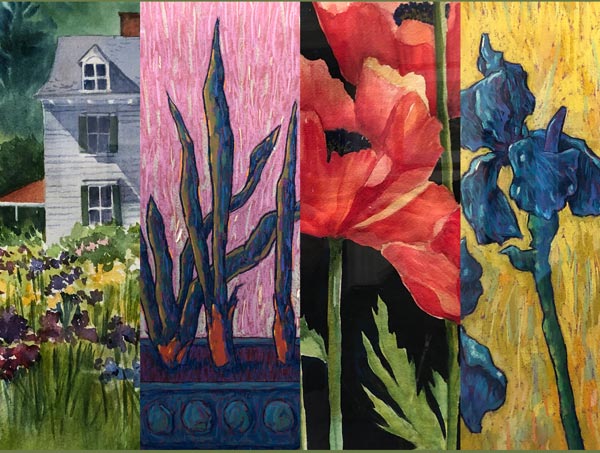 NEWS | CHARACTERISTICS | PREVIEWS | EVENTS
originally published: 06/18/2021
(HAWTHORNE, N.J.) –– the Passaic County Arts Center at the John W. Rea House presents Goffle Brook Park: a source of creativity, travel by Michael Gabriel, and watercolors by Christine Calandra. The exhibitions are currently on view and will run until September 5, 2021. Each exhibition will feature local artists; including those whose artistic expressions depict Goffle Brook Park in various stages of development and/or locations along the park's 103 acres.
The poet William Carlos Williams opened his 1949 poem with the words "The Goffle Stream of a May Day blooms in the manner of antiquity". For nearly a century, artists have been inspired by the natural beauty and evocative landscapes of Goffle Brook Park. The artists featured in A source of creativity are: Kathleen Anderson (Hawthorne), Audrey Yee Fink (Ridgewood), Jo Ann Jennings (Hawthorne), William Nicolosi (Hawthorne), Carolyn Operbeck (Midland Park), Dave Saunders (Hawthorne), Mark Philip Stone (Passaic), and submissions from students at Eastern Christian School in North Haledon.
Two other installations will be presented by artists Christine Calandra and Michael Gabriele. Calandra, a self-taught artist, studied with many master watercolourists. She brings 35 years of experience as an artist and her love of New Jersey has been reflected in many of her paintings. His painting titled "Midnight Walk" was selected for inclusion in the book "To The Shore Once More Vol. III" in 2016. She was elected an exhibiting member of the New Jersey Watercolor Society in 2011.
Gabriele's exhibition is called "Voyages". His works, which include pastels, photographs and drawings, have been exhibited in various New Jersey galleries, museums and libraries since the late 1980s. An award-winning artist, Gabriele's work has been accepted in juried exhibitions sponsored by the Allied Artists of America.
"The process of my artwork begins with a series of drawings, then uses the drawings as a guide to experiment on pastel paper to achieve a finished work," Gabriele said. Much like a photographer, my goal as an artist is to "capture a moment". I am inspired by landscape and still life.
Advertise with New Jersey Stage for $50-$100 per month, click here for more info
---
On Thursday, June 24, from 5:30 p.m. to 8:30 p.m., the County of Passaic is hosting an opening reception for Goffle Brook Park: A Source of Creativity, Travels by Michel Gabriel, and Watercolors by Christine Calandra.
The Passaic County Arts Center at the John W. Rea House opened in June 2019 and features local artists. Those interested in exhibiting their work can submit proposals on an ongoing basis. For more information, please visit pcartscenter.org. Admission to the Arts Center and galleries is free.
Advertise with New Jersey Stage for $50-$100 per month, click here for more info
---