New Dixon Art Gallery Head, A Hometown Boy With Worldly Experience – Shaw Local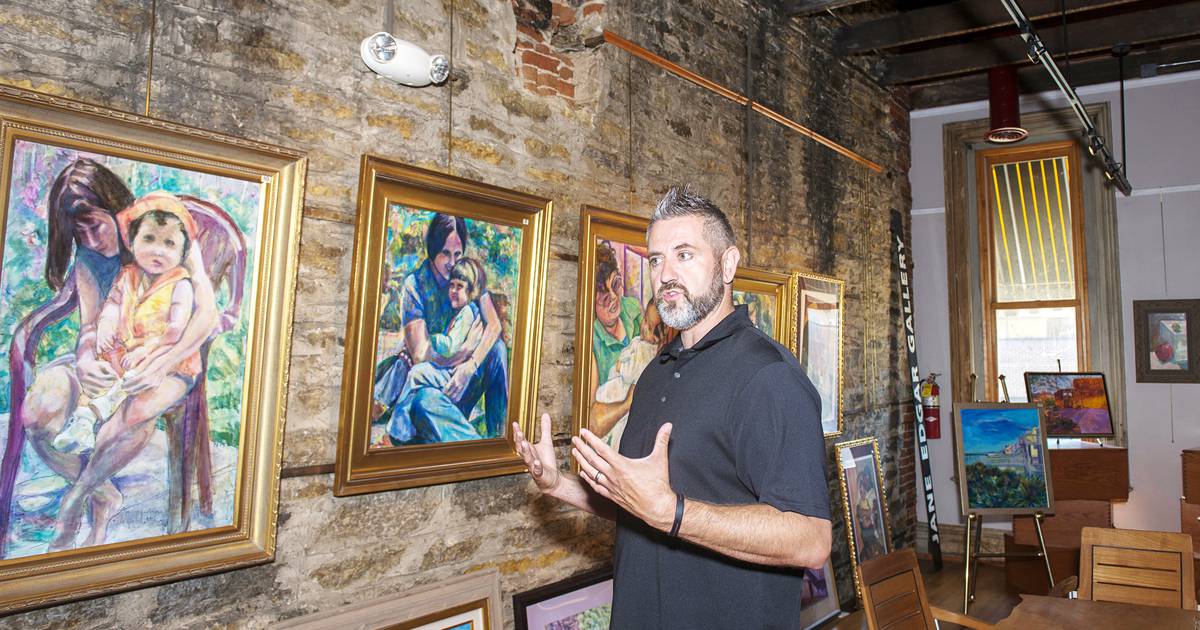 DIXON – For Philip Atilano, home is where the art is.
It was there that he grew up, it was there that he discovered a passion for creating that would become a career – and it was there that the new executive director of The Next Picture Show found a place where he can finally keep both feet on the ground.
This does not mean that he stands still. Far from there.
Atilano has spent the past few months wondering, "What's next?" and waste no time finding an answer.
After the 41-year-old Dixon native took office on Jan. 1, he made several changes to the nonprofit community's fine arts center: new exhibits, new classes, even a whole new floor additional space.
The changes incorporate much of what Atilano has learned and seen on his travels – and that's a lot.
"Being home and being close to my family is what did this to me," he said. "This opportunity opened up, and it was all about timing."
This is not the first time that Atilano has taken part in TNPS. He exhibited his art there early in his career, occasionally served as an exhibition judge, and also occasionally assisted with community art projects affiliated with the gallery.
He was asked to take over as executive director when Bonnie Kime stepped down in January 2016, but had to decline due to other commitments. Michael Glenn stepped into the role, and by the time he retired, Atilano had been back in the area for about 4 years.
He moved to Sterling with his wife, Julia (Swartley) Atilano, and their two children, and the next time the executive director position opened up, he was ready.
"I'm thrilled with this opportunity and really looking forward to making this place a place of excellence," Atilano said. "I just sort of got exhausted traveling. I was in 40 states in seven years. I am married. I wanted to stay married. I have two young boys. It was time to stay in the field for a while.
Atilano has long had a passion for art – "ever since I could pick up a pencil" – especially drawing.
"It was kind of my form of escapism," he said. "The drawing and my imagination had just been inspired by art. I didn't really know what opportunities were available to an artist.
Atilano honed his skills in art class at Dixon High School, where he graduated in 1999, and improved them at Sauk Valley Community College, where he earned his associate's degree in 2001 before attending the Milwaukee Institute of Art and Design. He obtained in 2005 a bachelor of fine arts with a specialization in drawing.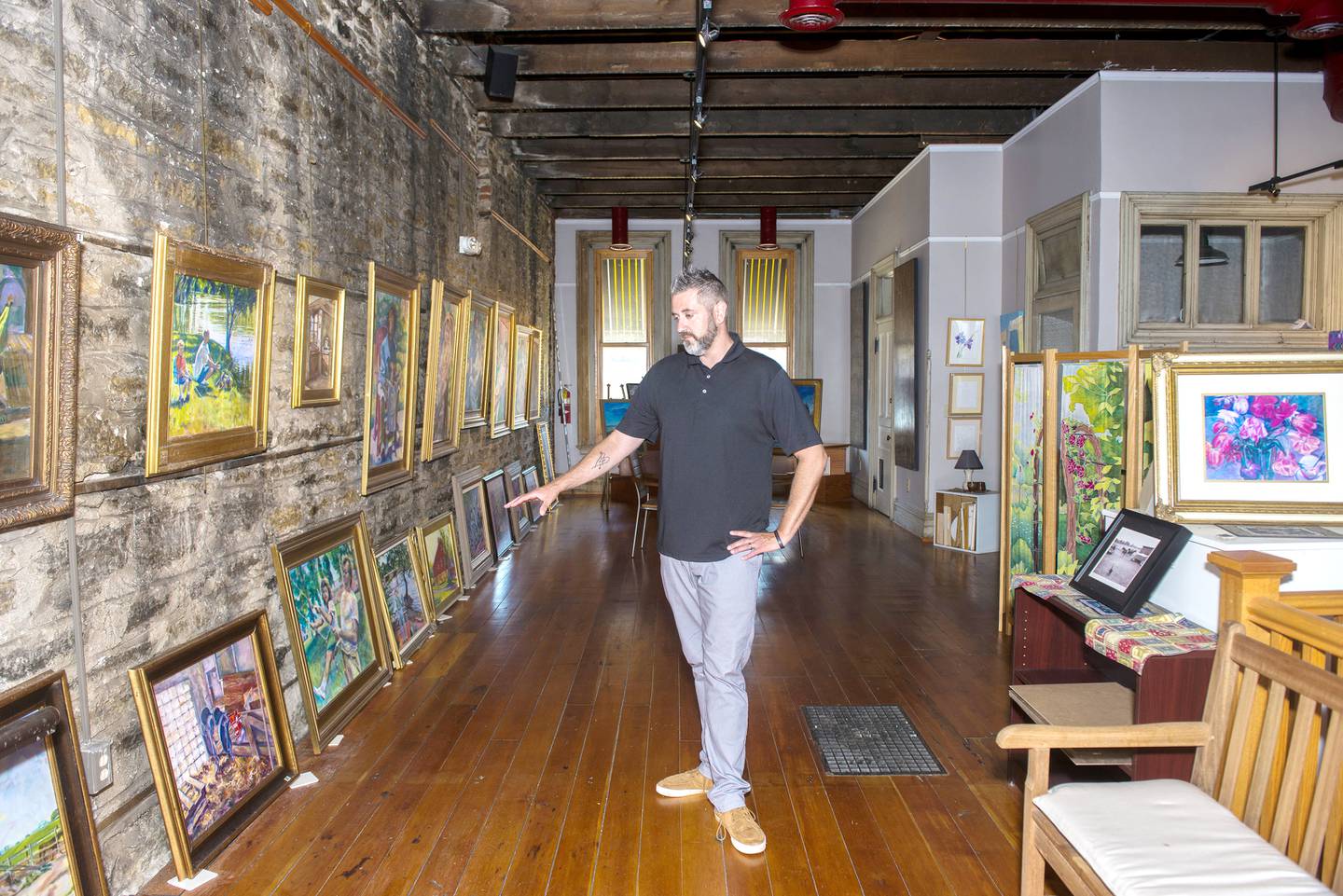 While figurative drawing was his specialty, Atilano enjoyed other courses that expanded his artistic palette, such as sculpture and painting.
After graduating from MIAD, he worked for eight years at Spolar Studio in Milwaukee as lead artist and project manager. He then became an exhibit designer at the Betty Brinn Children's Museum in Milwaukee, where he designed spaces to present exhibits and created several of them.
Some of his works have been exhibited across the country and around the world. It wasn't long before Atilano began to put on a lot of miles, spending seven years with Conrad Schmitt Studios in New Berlin, Wisconsin as foreman and lead artist.
While there, he led projects at the University of Notre Dame Basilica, the Paramount Theater in Aurora, and state capitol buildings in St. Paul, Minnesota, and Pierre, South Dakota.
Architecture and art can often be one and the same, especially in older buildings. Religious buildings can be particularly ornate, and quite an enterprise to preserve and restore.
Atilano has scaled scaffolding in cathedrals, basilicas and churches across the country, restoring murals, frescoes, stained glass, ornamental plaster and 23-karat gold leaf gilding to 'Italy.
He completed a large-scale restoration project in December at St. Joseph's Catholic Church in Westphalia, Missouri, which underwent four months of interior repainting.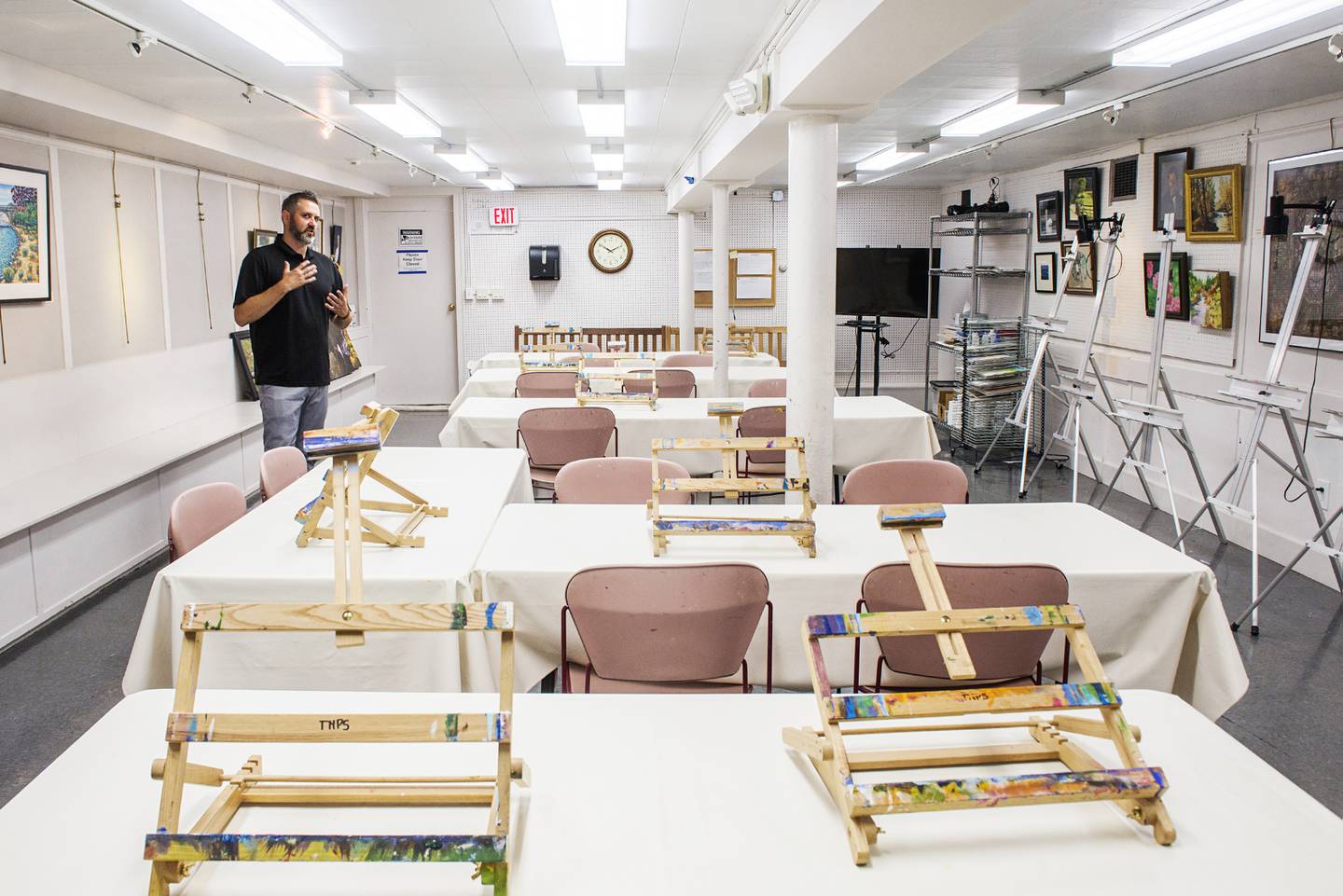 The next project he tackled was even bigger: restoration work at the Minnesota Capital Building in St. Paul. For nearly 20 months, he led a team of 25 who tackled work inside and outside the capital.
"My job was to be first on the scene, to make samples and get approvals from architects and design committees, and I would be there until the project was finished," he said. "Typical lead time would be around 3 months for a standard project, but the Minnesota State Capital was an exception as it was a full interior/exterior restoration, and that was huge – it was a $490 million project. All the artwork was quite exquisite.
Now he's turned the downtown art gallery into his next big project.
The Next Picture Show opened in 2004 in an 1854 building that has undergone a complete renovation. The main gallery level features a wide variety of exhibits by artists near and far. Before the COVID-19 pandemic, it also hosted small concerts. The lower level of the building is where most classes and workshops take place, with space set aside for special exhibits.
For most of its history, however, there had only been two levels of the building open to the public.
Under Atilano, the floor has storage and office space to accommodate the occasional exhibition and workshop.
Growing up, Atilano didn't have a place in town to display his work, but he wants that to change for the current generation. It aims to broaden the demographic and artistic reach of classes and exhibitions, giving more people a platform for their work.
TNPS also recently received a grant from Lee County United Way to increase the number of courses offered.
He also watches more than just pictures at The Next Picture Show.
"I don't just look at 2D and 3D work, but I also explore writing, poetry and fashion," Atilano said. "I try to introduce different types of art to expose the audience to things they wouldn't normally see. I really want to be all encompassing and focus on the keywords "fine arts community center". »
He also brought back paint parties, where students learn how to turn a blank canvas into a work of art they can take home.
The gallery also serves as a meeting place for the Sauk Creative Writer's Group, where writers work and share tips for writing novels, memoirs, poetry, prose, and short stories.
Atilano is also trying to cut course costs and create scholarship-like programs so more kids can afford to explore their creative side. After a life on the road, relocating to the Sauk Valley and working in his hometown was a welcome change for Atilano.
"For being a city of 15,000, there's a lot of culture here," he said. "With theater, Stage Left, for us, it's kind of like a game of chess where we have the right pieces in play, we have the right people running it. It's exciting. It's kind of like a cultural revolution. It's really cool to see what's going to happen and the potential there is.
To visit
The Next Picture Show, 113 W. First St., is open 10 a.m. to 4 p.m., Tuesday through Saturday, or by appointment.
For more information on exhibitions, art classes or to donate, find him on Facebook, go to nextpictureshow.org, email director@nextpictureshow.org or call 815- 285-4924.
Exhibitions around Dixon
Until September 3: Absolutely Abstract at TNPS, 113 W. First St.
Until September 30: Black and white at KSB Commerce Towers, 215 E. First St.
Sept. 10-Oct. 22: Farms and barns exhibition at the TNPS
September 22: Graydon Cafarella Memorial and Auction, 10 a.m. to 5 p.m.
Oct. 1-Dec. 31: Birds of a Feather at KSB Commerce Towers
Oct. 29-Dec. ten: Batavia's Water Street Studios exhibition
13 Dec-Jan seven: Sydni Reuban and Heather Shore Exhibition