Middletown Arts Center invites entries for MAC ONE-ACTS Play-Reading Festival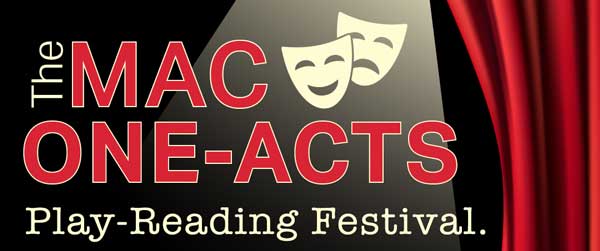 NEWS | FEATURES | PREVIEWS | EVENTS
originally published: 05/04/2022
(Middletown, New Jersey) — Middletown Arts Center announced a call for entries for The MAC ONE-ACTS, a play-reading festival featuring original one-act works by New Jersey playwrights. Entries from New Jersey residents 13 and older will be accepted and must be original, unpublished scripts in standard professional game format with run times no longer than 30 minutes. The deadline for submission is Friday, May 13 at 11:59 p.m.
Submission Guidelines: Attendees must be New Jersey residents who can physically attend the event and all rehearsals, meetings, etc. required. Only one submission per playwright. Games must be ONE ACT with a running time no longer than 30 minutes. There is a five character limit. Scripts must be ORIGINAL, UNRELEASED works, suitable for all ages. Scripts must adhere to the standard professional game format. The part name and page number must appear on all pages. Include a synopsis and cast/character breakdown.
Walk in, Click here. The selection of finalists will be announced on Monday, May 16.
This is the third edition of the highly successful festival which started as a virtual event in 2020 and was then presented on the MAC's tent terrace last spring. This year, the festival will be held in the MAC's large theater on Saturday, June 4 at 7 p.m. and will feature readings of each selected play by local comedians. The festival is free and open to the public and donations are appreciated.
Middletown Arts Center (MAC) is an award-winning, state-of-the-art facility located at 36 Church Street in Middletown, NJ (next to the Middletown train station). Free parking is available on site and additional free parking is available in the station's paid car park on weekday evenings after 6:00 p.m. and weekends. The MAC is operated by a 501(c)(3) non-profit organization, the Middletown Township Cultural and Arts Council, which is dedicated to providing quality arts programming and events to Middletown and surrounding communities.
Advertise with New Jersey Stage for $50-$100 per month, click here for more info
---
Advertise with New Jersey Stage for $50-$100 per month, click here for more info
---