The latest exhibition at the Medulla Art Gallery is "In Lieu of Flowers" ​​curated by Geoffrey MacLean and Martin Mouttet.
The first question we will ask ourselves is "Why is it called instead of flowers?" "
Justin de Verteuil suggested the name of the exhibition. The symbol of offering flowers is particularly relevant during the current pandemic, given that flowers are used as a symbol of an expression of support, the gift of which increases feelings of compassion and happiness, and as Justin describes it: "And instead of flowers, we have art ".
The Gallery has always encouraged young independent artists to exhibit their work. In Lieu of Flowers emboldens the non-traditional, as opposed to the more "popular" art of Trinidad, largely expressed in photo-realism. The confinement over the past two years is reflected in the personal expressions of the artists' lives during this time.
The four artists whose work is included in the exhibition are: Justin de Verteuil, Sarah Knights, Marcus Leotaud and Taya Serrao.
Justin began his painting studies under the private tutoring of Edward Bowen in 2013 before starting his continuing education at the Kunstakademie Düsseldorf. It started in 2014 as a guest year in the class of Peter Doig, and continued from 2015 to 2020 in the class of Siegfried Anzinger. He is currently studying in Katharine Wulff's class. His work has been exhibited at Edward Bowen's "Open Studio" in 2014, Medulla Art Gallery, "Stare the Line" in 2014; Contemporary Art Düsseldorf, "Pass auf Anzinger" in 2016; Sprink, "Massephase" in 2017; The Box Gallery, "Trio Infantile" in 2018; at Grundlos Kollektiv in 2018 and Friedrich JH Schneider-Stiftung / Studienpreis in 2020.
Justin perhaps sums up the spirit of the works on display:
"I can't explicitly write about my paintings, and I don't particularly want to. Words are words and a picture a picture, and the two run parallel to each other and complete what is missing in its counterpart, but they cannot explain each other. I am paraphrasing Degas by saying that "The Muses do not speak to each other, they dance among themselves". The title of the exhibition "Instead of Flowers," I Hope, dances our thoughts as they visit the exhibition, directs their feelings towards knowing what paintings can sometimes be used for and in turn gives a goal at work. I hope that I will be forgiven for having had the audacity to include the other three artists in my thoughts.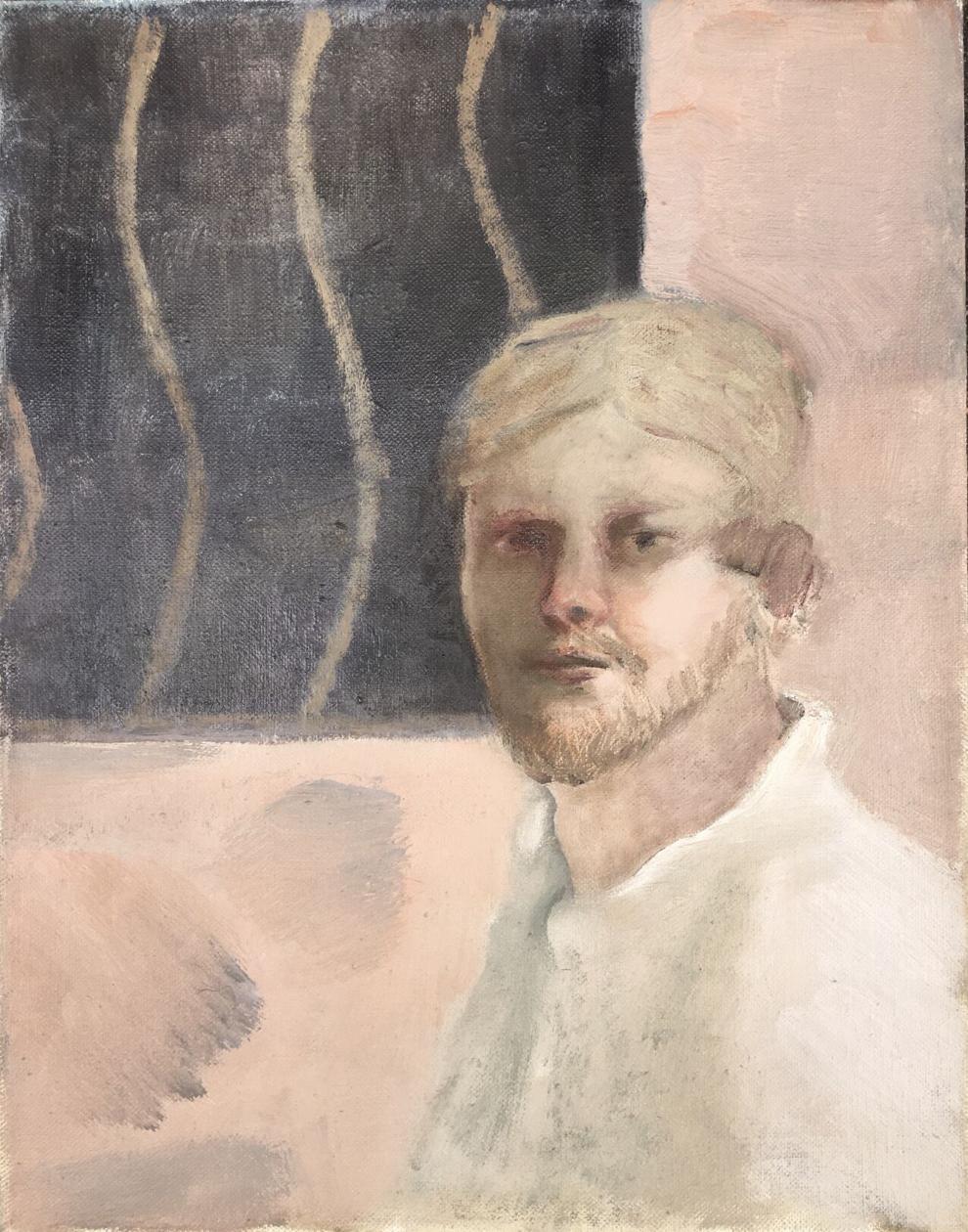 These paintings were made between January and March 2021, on the coldest and darkest days both literally and figuratively, at the start of the second confinement in Germany. Walking slowly to the studio, sometimes with a burst of sunshine across an otherwise dark and turbulent sky, the ability to paint, to have a reason to leave home, upset the monotony of everyday life devoid of entertaining joys and closeness to those we love. He gave direction and purpose beyond mere existence, which itself was otherwise seemingly threatened. "
Sarah Knights was born in Sangre Grande. In 2008, she received an associate's degree in visual communications from the John S. Donaldson Technical Institute. With her newfound appreciation for art and design, she went on to pursue a bachelor's degree in visual arts at the University of the West Indies. Her formal training at UWI helped her use art as a means of self-expression and healing.
After graduation, she began working on a mixed media painting set, using herself as the main subject to discuss identity issues with women in modern societies. Her paintings reflect both the present and the past and focus on racism, feminism, beauty and religion influenced by Western media and popular culture.
Sarah Knights describes her work:
"My paintings are self-portraits inspired by popular culture, politics and current, social and historical events. The subject of "self" has become very important in my work as I examine "being" in this complex and ever-changing society heavily influenced by mass media and social platforms.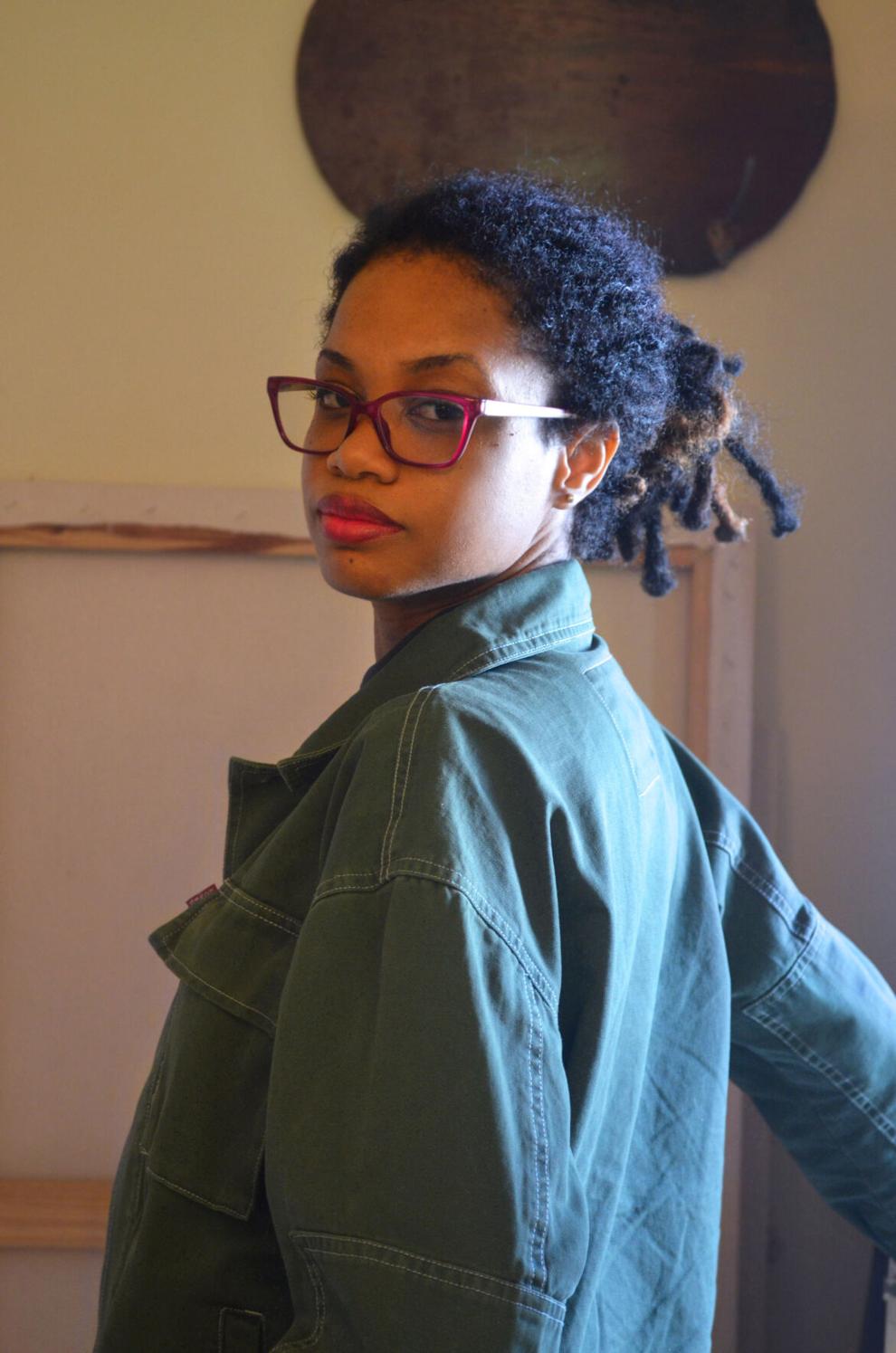 The image of myself in a conservative dress has become an important motif in my paintings. This pattern borrows the rigid, classic pose of the 1900s and is juxtaposed and layered with other iconic patterns and images today. Collage, embroidery, acrylic and found objects are used in most of my paintings, inviting the viewer to take a closer look ".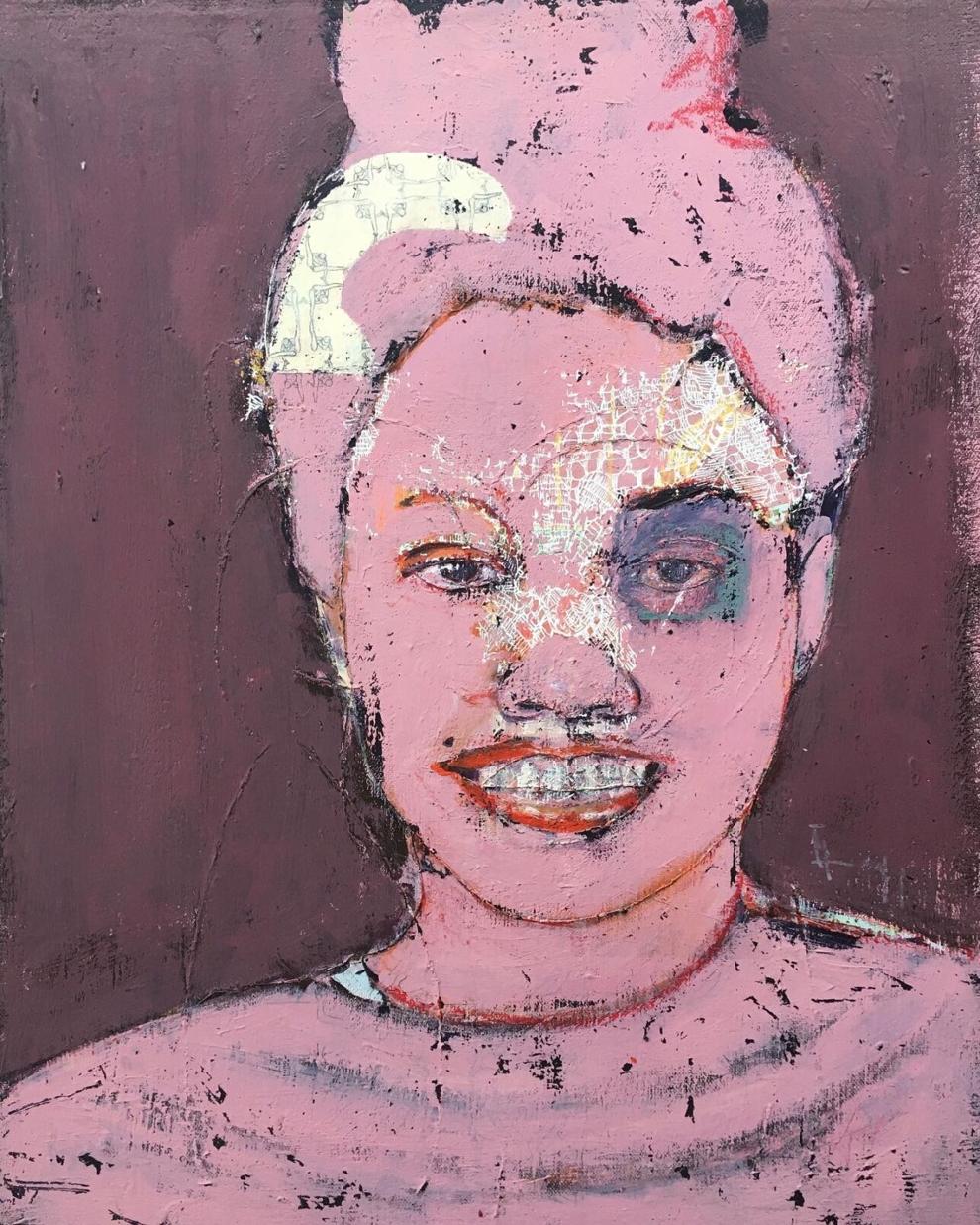 In 2018, Sarah had her first solo exhibition titled "One Thousand Mes" at the Medulla Art Gallery, curated by Martin Mouttet. His works have been exhibited in various group exhibitions, including: "Connecting Cultures: Contemporary Art From Trinidad and Tobago" – US Chief of Mission Residence, US Embassy and Medulla Art Gallery; "Growth", The Caribbean Center for the Arts, St Croix; "Thru Contemporary Arts Collection", Art Society of Trinidad and Tobago: "Mixed Bag".
Marcus Leotaud studied art at Concordia University, Montreal, where he obtained a Bachelor of Fine Arts in 2008. After moving to London, he obtained his Masters of Fine Arts in 2011 from Chelsea College of Art and Design. He describes his work: |
"Although style schools are not a hallmark of contemporary art, the works I produce are best understood thematically under the aegis of New Romanticism. As described in Max Hollein and Martina Weinhart's catalog for 'Ideal Worlds' – Behind the desire for the heavenly, the beautiful and the magic of fairy tales, the dark and the strange are present as the idea that utopias are doomed to failure. Solitude as an essential romantic perspective, this central subject is mainly treated in the form of decorations loaded with symbolic qualities. Contemporary art encompasses many variations of this theme that range from the threatened idyll and its invocation to the overwhelming impression of outer immensity and nature as a space to consider the transcendent.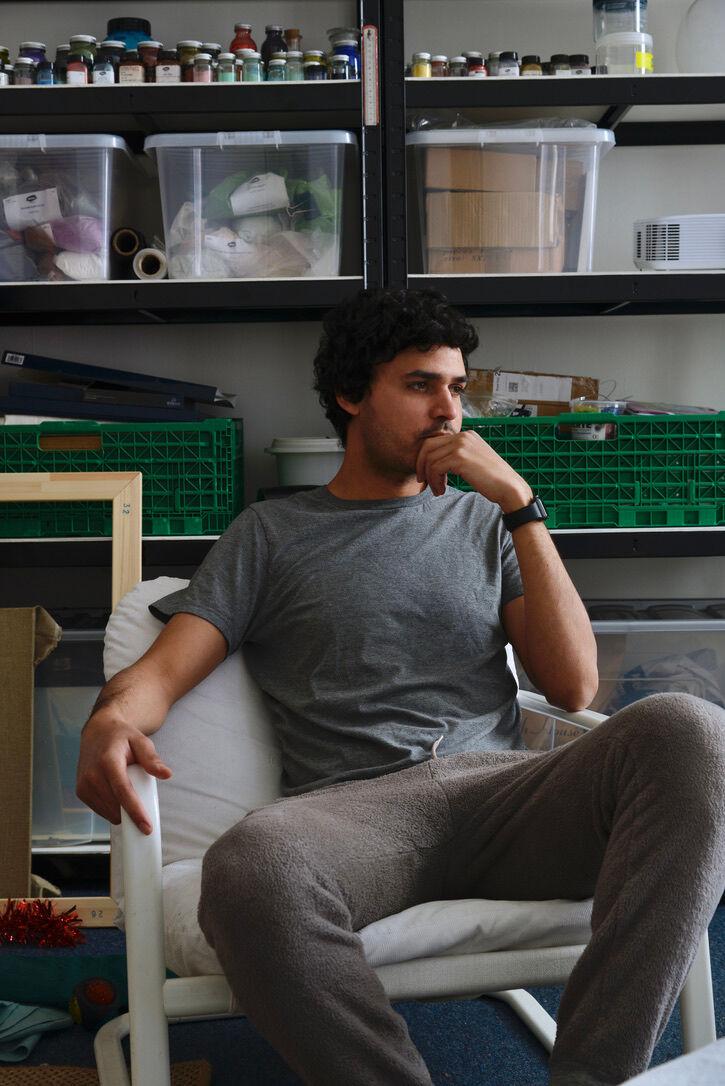 "A push to get out, an unwavering desire to move from a familiar place to an unfamiliar (imagined) place – I reflected on what causes people like me to leave behind familiarity and sometimes comfort for adventure. or arcadia. Some of my works touch on displacement as one of the actors of neo-cultural dynamics, but mainly the perverse romanticism of otherwise comfortable individuals sleeping in the street or in unconventional housing in the quest of the Arcadian experience is central.
"The work sits at the frontiers of representation because I find it unloaded from a specific narrative, but I have a love for figurative paintings and have tried to find their relevance in the creative buzz of multimedia experimentation with which I am contemporary. I'm at the point where my respect for classical approaches lies both in considering them less esoteric than new media and that the ironic portrayal is achievable through media designed for the most stable environments.
Marcus exhibited his work at the Whitmore Road Gallery in 2011; Royal Academy "Summer Exhibition" in 2012; the Prince's Foundation Gallery in London in 2012; Pallant House Gallery in Chichester in 2012; the Royal Scottish Academy in 2012; the Salisbury Museum in 2019; The chain of stores in 2020; and the University of Montford in 2020.
His work has been selected for exhibition at the Prince's Foundation and the Pallant House Gallery as part of a national open art competition. His selection for the Salisbury Museum and Chainstore came from the Trinity Buoy Wharf Drawing Awards.
Taya Serrao is a multimedia artist who lives and works in Port of Spain. She holds a BFA from the Cooper Union School of Art in New York, graduating in 2018. Her work is best described as contemporary abstract art and her work as presented produces a flow and a formidable movement with its images.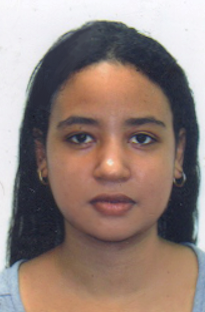 Taya Serrao describes her work:
"For this series of paintings, I drew on my surroundings and started with very little intention beyond making an interesting impression of what I was looking at.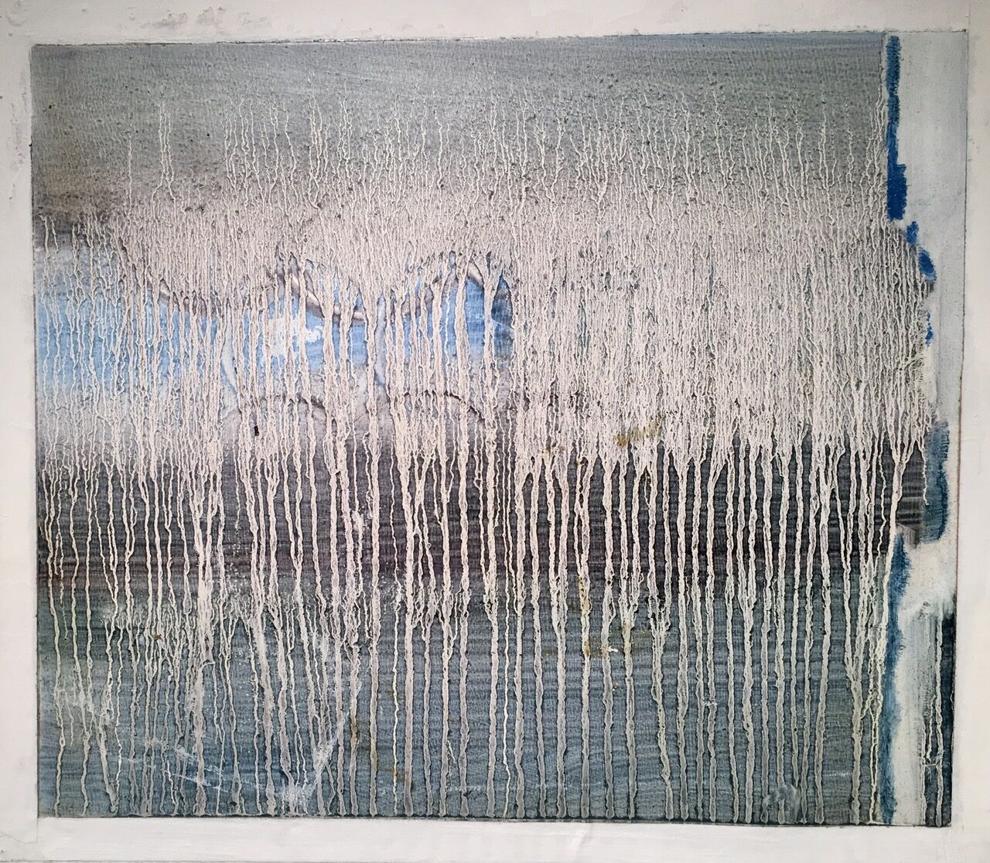 It was important to look at the subjects as if I were seeing them for the first time, a form of distance between myself and the subject, in order to really observe them. I am interested in how this distance can be represented on a painted surface and how this process relates to photography.
NOTE: The exhibition continues until Saturday, October 30. The opening hours are Monday to Friday at 10 a.m. at 6 p.m. and 11 a.m. to 2 p.m. Saturday.
The Medulla Art Gallery is located at 37 Fitt Street, Woodbrook, Port of Spain. Contact: 680-1041