Franklin Special School District Marks Completion of New Performing Arts Center and Gymnasium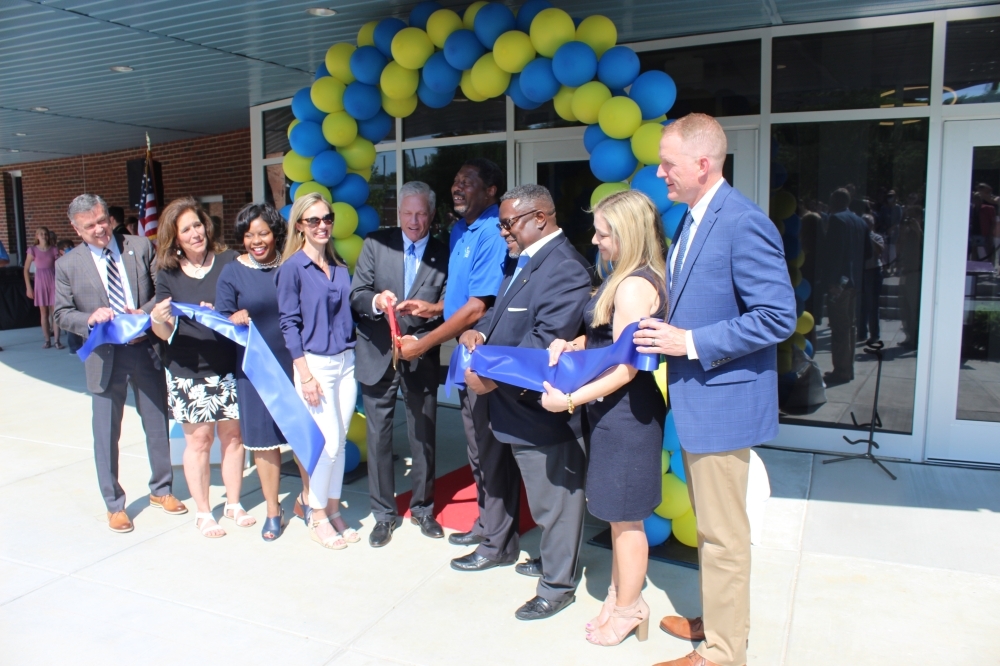 Franklin Special School District May 20 celebrated the completion of a new $15.9 million performing arts center for district-wide use and a new gymnasium for students at Poplar Elementary School Groves. More than a hundred people gathered for an afternoon grand opening of the FSSD Performing Arts Center and new gymnasium, both located on the north end of the Poplar Grove campus at 2959 Del Rio Pike, Franklin.
Current and former teachers, students from the district, and community and school board members toured the facility after a brief ceremony.
The opening of the district's performing arts center will provide a much improved venue for student musicians and actors to hone their skills as performers, said board member Tim Stillings.
"Aspiring singers, songwriters, musicians, actors, speakers…" Stillings said. "This is your space for your creative development. Use it now to one day amaze us.
The 34,400 square foot performing arts center includes a 484-seat auditorium for performances by students in the music, choral, and drama programs at the district's eight schools serving K-8 students, officials said.
The auditorium also includes a 49-foot loft and ancillary spaces, such as changing rooms and accessory storage areas.
At the event, Janice Shelby, who served as the district's superintendent of schools from 1996 to 2001, said FSSD has a long-standing emphasis on teaching "the whole child."
Shelby said that in the 1990s, FSSD was the first district in Williamson County to offer all students music, art, and physical education.
"I think it speaks to the Franklin Special School District's commitment to excellence in learning," Shelby said.
The new 22,800 square foot gymnasium for Poplar Grove Elementary School will give this school its own sports space after sharing a gym with Poplar Grove Middle School. The facility includes 480 bleacher seats, several dressing rooms, offices and a concessions area.
"This is an important facility to provide ample space for physical education and sporting activities," said schools principal David Snowden.
The building also includes the Legacy Gallery, a 650 square foot exhibit that showcases the neighborhood's 116-year history.
The exhibit includes an interactive touch display table featuring interviews with former faculty and historical summaries.
"It's moving to see people here remembering the heritage of the district," said Janet Cochran, the former principal of Johnson Elementary School.