Del Norte Supes supports new performing arts center project | Wild Rivers Outpost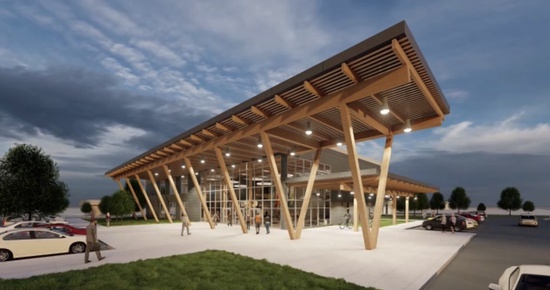 ---
Jessica Cejnar Andrews / Today at 3:34 p.m. / Arts, Education
Del Norte Supes supports new performing arts center project
---
County supervisors on Tuesday applauded Nick and Lisa Rail's bucket list item to build a performing arts center at Del Norte High School.
District 5 Supervisor Susan Masten pledged $500 while her District 2 colleague Valerie Starkey pledged to "tell the story and promote the project".
District 3 Rep Chris Howard wanted to make the board's support official, asking "why wouldn't we support a project like this."
"We could honor this through a proclamation that will help support their vision, so if the day comes when help or staff time is needed to help bring this to fruition, council support will be cemented and we we can give staff time and direction to support the vision for the future for our community," he said.
The facility will seat 1,000 people, be located between the Band Hall and Washington Boulevard, and would cost $42 million to build. The doors are scheduled to open in January 2028. Nick Rail has already established a non-profit performing arts partnership determined to raise the necessary funds to enable him to realize his vision. He and his wife also donated the first million dollars for the project.
"There are such a multitude of uses for the center," Rail told supervisors. "Students will have facilities that will transform their educational experience and give them equal access to resources that most others take for granted. The incredibly diverse local regional community will have a place to showcase talent and support cultural richness. The area will see a continuous lineup of performing artists that they currently have to travel hundreds of miles to see.
The performing arts center will also serve as an emergency evacuation center within the boundaries of Crescent City, outside of the tsunami zone, Rail said.
Rail was a student at Redwood Union Elementary School in 1959 when the school started offering an orchestra and his parents figured out how to buy him a trumpet despite his father's meager salary. Rail said he is still friends with some of his former bandmates.
Rail then founded a music retail chain in Southern California with six stores, sold the business in 2019, and moved back to Del Norte County.
In January 2020, Nick and Lisa Rail donated over 100 new instruments to the Del Norte Unified School District. Nick Rail helped set up a new band instrument repair shop at Del Norte High School with music director Dan Sedgwick as a teacher.
And last year, Nick and Lisa Rail led the renovation of Crescent Elk Auditorium, which celebrated its grand reopening in November.
Rail said creating a performing arts center that would provide a venue for students, the community and visiting artists was on his to-do list.
The Partnership for the Performing Arts has entered into a memorandum of understanding with DNUSD, which is providing the land. District facilities and maintenance manager Steve Morgan is overseeing the project, Rail said, and the nonprofit is working with PBK Architects and Jones and Jones Architects to design the facility.
"The center will be a gift and an investment for the community and not a drain on local resources," Rail told supervisors. "The majority of funds will come from out of town, out of county and even out of state."
The Performing Arts Partnership has hired former First 5 Del Norte executive director Angela Glore to seek state and federal grants, Rail said. He added that the nonprofit will also reach out to local tribes in Del Norte as well as private foundations and donors.
A side project led by former Del Norte High School music teacher Christy Lynn Rust is compiling a database of the roughly 12,000 alumni who live outside the county, starting with those who graduated in 1950, Rail said.
The organization has also contacted Brookings, which "would also like to have a performing arts center."
Rust, who compared holding band gigs in the high school gymnasium to listening to a bumblebee in a tin can, said she had to get creative and hold gigs outside to have feeling that his students were getting the most out of the work they were doing to prepare for their.
Although Del Norte High School is over 60 years old, band performances still take place in the gymnasium, she said.
"Last spring I attended a music department concert in the same gymnasium and again the venue destroyed all the work they did. It was just rattling and banging throughout of (performance)," Rust said. "We really need to do better. We need a performing arts center.
Mother-of-three Angela Stanley said her eldest, who is graduating from high school on Friday, received a brand new "Nick Rail Foundation saxophone that we were allowed to look at and not touch".
"I really hope that the Board of Supervisors and Del Norte County and the city and everyone will do all they can to support the Nick Rail Foundation and the goal of giving Del Norte County a center for performing arts the county deserves," she said.
---
SHARE →