8 art exhibitions to discover this summer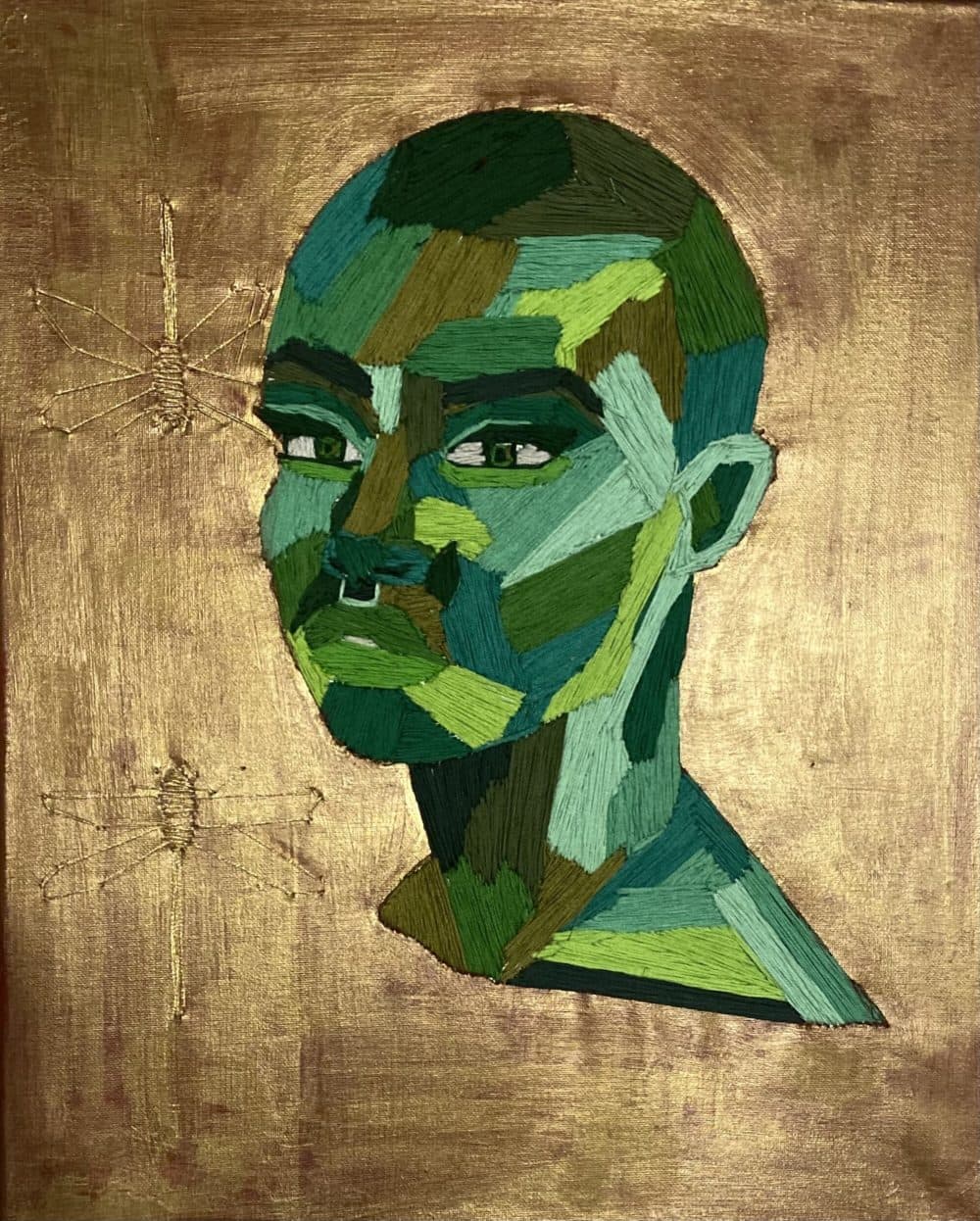 Summer is here and the sun is shining again, not only on our rekindled social lives, but also in the art world.
After more than a year of hiatus, thanks to restrictions linked to the pandemic, museum exhibitions and gallery openings have finally resumed. In fact, exhibition schedules seem busier than ever, as many venues eagerly make up for last year's canceled shows.
And so, there is a lot of art to be seen. At the MFA, you can see the work of artist and Roxbury activist Ekua Holmes, whose colorful book illustrations will be on display from July, as well as recently acquired work from local artists – including Dana C. Chandler Jr. , Alison Croney Moses, Eben Haines, Stephen Hamilton, Tomashi Jackson and Lavaughan Jenkins – in conversation with older selections from the museum's permanent collection. Outside of town, you can watch an experimental maritime film by Peter Hutton at the Peabody Essex Museum before the show ends in July, and at the Fitchburg Art Museum, you have until September to savor the dreamlike and surreal paintings of the artist from New Hampshire. Nathan Bentley. Here are some places to start quenching your thirst for art this summer.
Until October 31
Can old geezers still be "sexy"?
Samantha Nye strives to move beyond ageist ideas of sexuality and eroticism using the power of video. Recreating the type of 16mm movies from the 50s and 60s played on Scopitone jukeboxes (a precursor to MTV, YouTube, and TikTok), Nye creates his own music videos swapping the gender stereotypical white male pop singer surrounded by twisted, scantily clad women for older homosexuals (including his own mother and grandmother). By swapping the object of desire for the elderly with age spots and loose skin, Nye redefines our notions of who is both capable and worthy of lust and desire. Nye, a queer artist living in New York City, expands our view of love, sex, agency and belonging.
"My paintings and videos are meant as love letters to queer spaces past and present, to flourishing and abandonment," Nye told Hyperallergic in 2019. "In my attempt to image queer parentage , I recognize the beautiful parts, the sharp parts, the radical parts and the parts which need to be repaired for a long time.
---
July 3-Sep. 26
He is a designer, DJ, artist and entrepreneur. Today, Rockford, Illinois native Virgil Abloh is the subject of the first museum exhibit to examine the full breadth and scope of his multifaceted career. 'Figures of Speech' addresses the many tentacles of Abloh's vast Octopian career, including his iconic clothing collections, videos of his fashion shows, samples of his furniture designs, graphic work and collaborative projects. with other artists.
The exhibition, curated by the Museum of Contemporary Art in Chicago, demonstrates that while Abloh has his roots in the American Midwest, his reach in design and music is global. Abloh founded his clothing brand 'Off-White' in Italy in 2013, partnered on furniture design with Swedish furniture giant IKEA, collaborated with concept artist Jenny Holzer to create an installation on the Crisis Refugee International at fashion shows in Florence, and in 2018, became the artistic director of the men's clothing collection of French fashion house Louis Vuitton.
W Magazine calls him "a creative and astute translator of multi-hyphenated youth culture." It seems fair.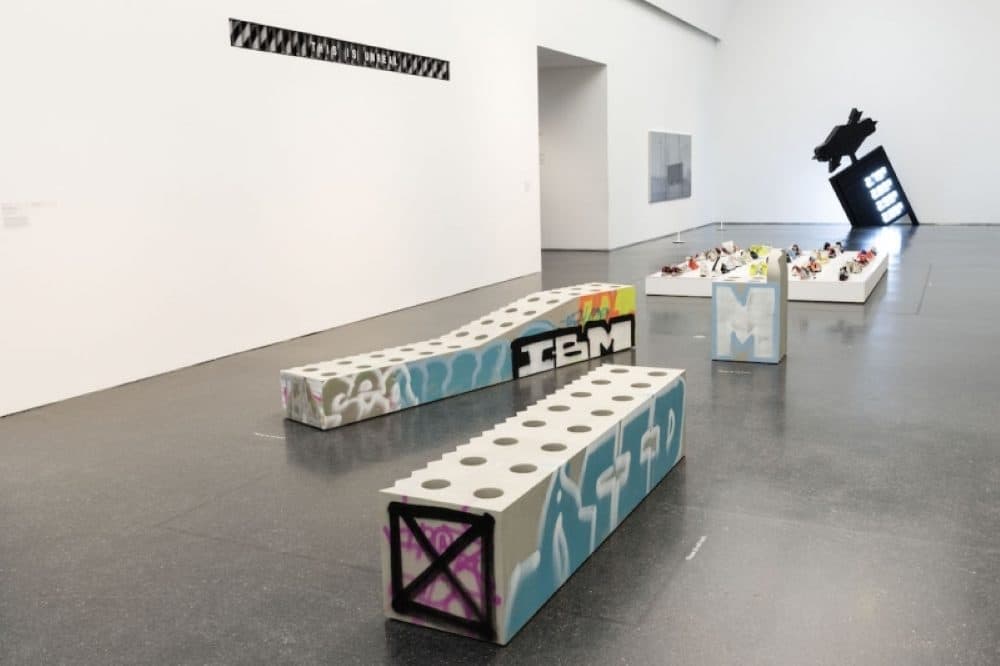 ---
Sep 1-Jul 24, 2022
Also at the ICA this summer, an exhibition dedicated to Raúl de Nieves, an interdisciplinary artist, performer and musician. Born in Mexico and living and creating now in New York City, de Nieves sews life-size shamanistic figures extravagantly adorned with balls, plastic beads, bracelets and sequins. A sculpture of a horse stands almost 8 feet tall. He attributes his childhood upbringing to Mexico, where he learned to sew and crochet, for his passion for creating lavish figures that refer to Mexican ritual costumes, religious processional clothing, circus clothing, and kabuki theater. Japanese. The ICA credits the artist with exploring the "transformational possibilities of adornment and the mutability of identity". George Clinton would certainly approve.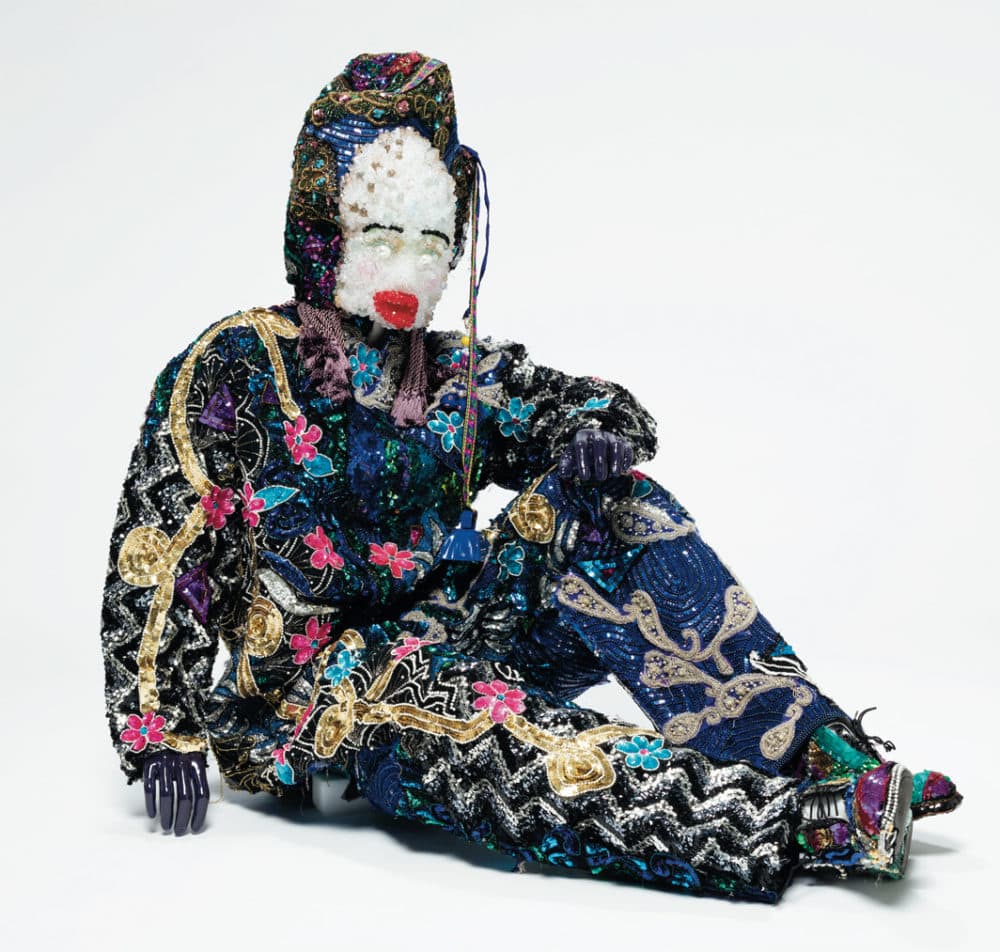 ---
Sep 1-Jul 24, 2022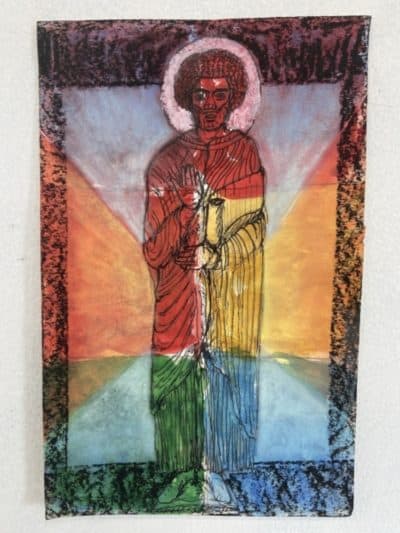 Every two years, the CIA presents its biennial of the James and Audrey Foster Prize showcasing the work of up-and-coming local artists. This year, the exhibition features the work of Marlon Forrester, Eben Haines and Dell Marie Hamilton. Forrester, who was born in Guyana but raised in Boston, is on the painting faculty of the School of the Museum of Fine Arts. His paintings, drawings, sculptures and multimedia works center on the use of the black body, and more specifically on the "fear of the muscular black figure in America". The paintings, drawings, sculptures and installations of Eben Haines, a native of Boston, center on the constructed nature of history. He often uses the conventions of portraiture that he opposes to cinematographic sets. Dell Marie Hamilton, who works at the Harvard Hutchins Center for African and African American Research, does performance-based work that she says "examines the diasporic, fragmented and syncretic nature of the human condition at the intersections of the race. , gender, power, language. , memory and identity. Together, the three artists cover media that include collage, painting, performance, photography, sculpture and installation.
---
Valérie Imparato: "Interlaced"
Fitchburg Art Museum
Until August 29
Cambridge-based Haitian-born artist Valerie Imparato draws inspiration from cultural influences that include the Caribbean and East Africa to create murals, paintings and embroidered pieces exploring ideas around black femininity. In this exhibition, Imparato's embroidered canvases continue this theme, depicting the faces of black women, devoid of hairstyles or even a realistic skin color. Instead, his women are crafted in a patchwork of jewel-toned hues that are reminiscent of the colorful and festive work of the American Black Arts Movement of the 1960s and 1970s.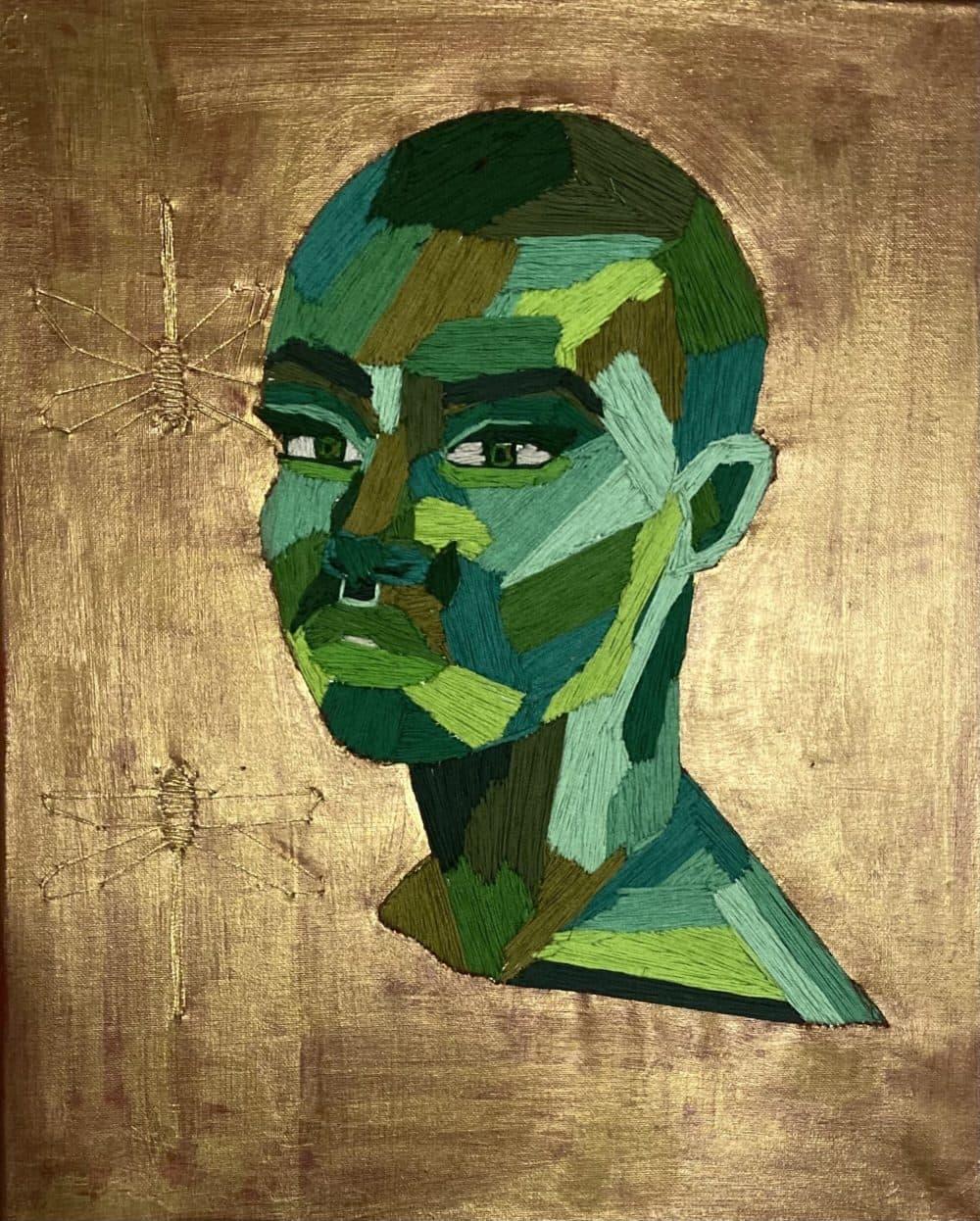 ---
Nathan Clark Bentley: "Waiting for Night"
Fitchburg Art Museum
June 26-Sep. 5
New Hampshire artist Nathan Clark Bentley describes his work as focusing on "themes of desire, exclusion and detachment." His paintings range from playful and irreverent mixed media confections to works heavily influenced by graffiti, animation and pop art. In this show, Bentley presents a whole new body of work created during the pandemic and focused on the joys and regrets of his youth. In a flurry of tattoos, beer, fast food, and a tiny teenager groping in the dark, Bentley's work is sardonic surreal.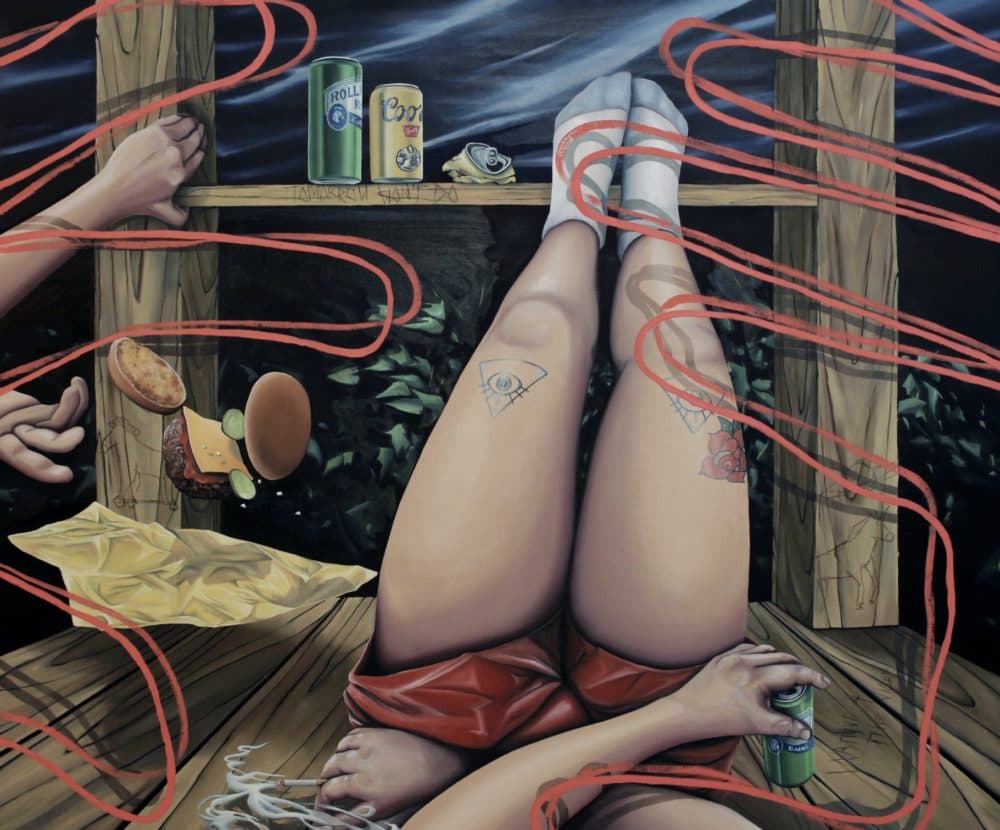 ---
July 3-Oct. ten
Last year marked the 400th anniversary of the Mayflower crossing the Atlantic, forever changing the world. To mark this event, Fuller Craft had planned a show in 2020, but of course the pandemic changed everything. Now the museum is bringing the spectacle to life in a July exhibit curated by guest curator Glenn Adamson. Adamson, who is based in Brooklyn, commissioned 10 artists to create objects for the show using only 17th-century technology and processes that might have been available to pilgrims. Each of the participating artists made two research trips before embarking, one to Plymouth, England, and the other to Plymouth, Massachusetts. What they came up with was intended not only to showcase their technical prowess, but also to highlight the social realities of a complex and difficult time. While the Mayflower Journey may be celebrated as a storybook quest for religious freedom by some, others see a much darker event characterized by the terrible treatment of the Wampanoag peoples. "Another Crossing" seeks to put everything in perspective, revisiting American history through a contemporary lens.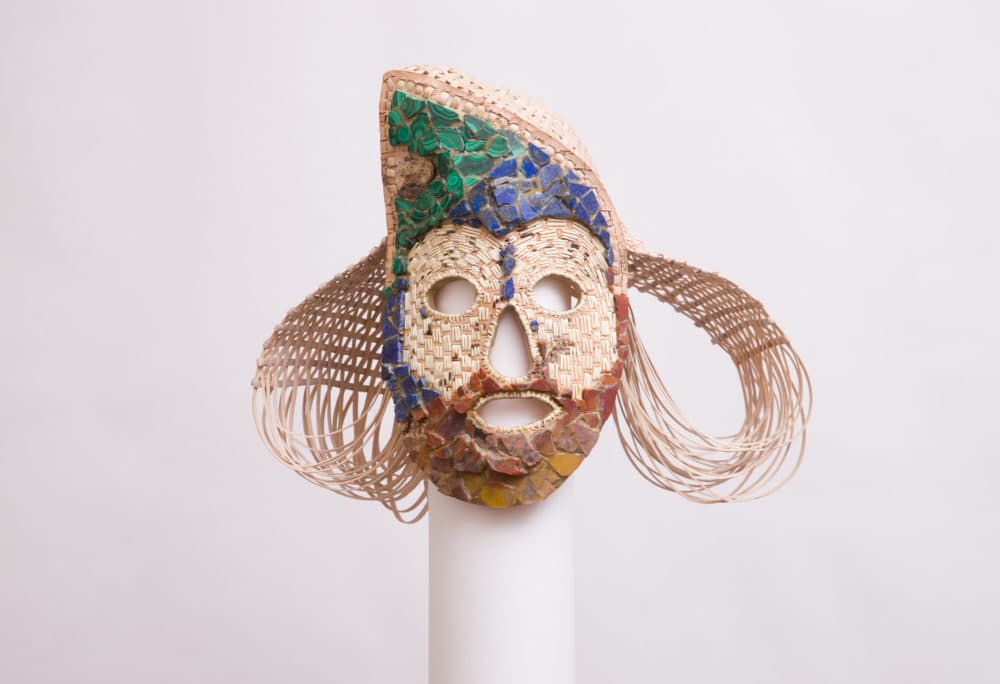 ---
Peter Hutton: "At sea"
Peabody Museum Essex
Until July 6
Summer wouldn't be summer without some time at sea. Now is your last chance with Peter Hutton's 2007 experimental film, aptly titled "At Sea". Hutton, who died in 2016, was a merchant seaman in the 1960s and 1970s and spent 40 years traveling the world, often aboard a freighter. Wherever he sailed he created meditative film studies. With "At Sea", Hutton follows the life cycle of a container ship from birth in a Korean shipyard to death by shipbreaking workers in Bangladesh. Traveling by boat can be overwhelming, as the vast oceans lead to a loss of perspective. Hutton's film evokes this loss, leaving us ourselves a bit "at sea".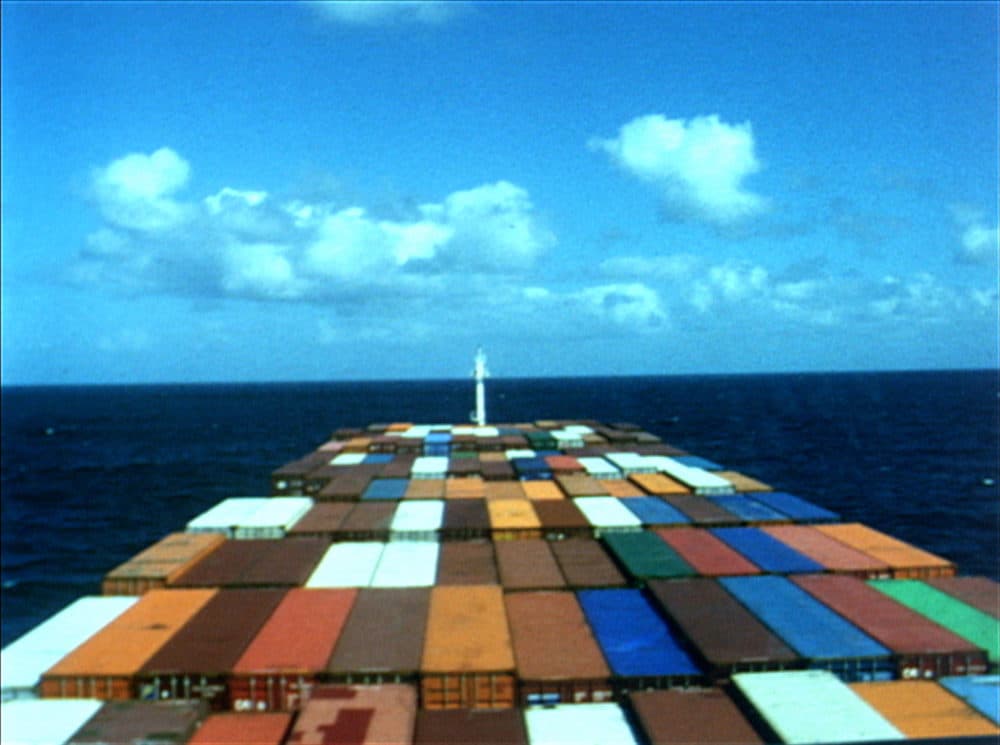 ---
Register
Check out all WBUR newsletters here.